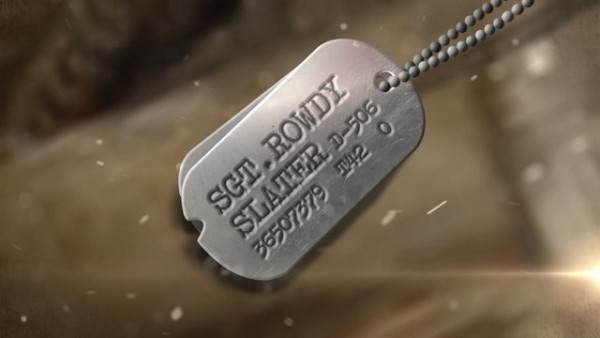 Marcus Brotherton is the New York Times bestselling author or coauthor of more than 25 books of nonfiction. His debut novel, FEAST FOR THIEVES, written in a longshot genre, has just been released. I asked him all about the new book and the process of perseverance in pursuing a dream.
Your new novel is titled, FEAST FOR THIEVES. What's it book about?
It's about an elite incorrigible paratrooper named Rowdy Slater who comes home from World War II to a small town in Texas. Rowdy robs a bank out of economic necessity, then turns his life around. The town sheriff knows Rowdy's dark secret and forces him to make a deal: survive a full year as the town's new preacher or go to jail for a long, long time.
So it's a military book. Or is it more about a backwoods minister?
Neither really. Its set in 1946, a year after the war concludes, and it's sort of a neo-Western crime thriller with lots of action, poignancy, and humor. One of the reviewers described it as a cross between Band of Brothers and True Grit.
The story is swept along by romance. Reverend Rowdy would be hard-pressed to admit it, but he's falling in love with Bobbie Barker, the church's willowy missionary. She's smart and funny and has a penchant for quoting horrible poetry. Rowdy needs to stick close to her, because she'll turn out to be exactly what he needs in the end.
"Neo-Western crime thriller." Hmm. That's a genre you don't see every day in a bookstore.
Yeah. This book is filled with car chases, gun fights, parachuting scenes, and kidnappings. Until you read it, it's hard to fully describe.
It's actually classified as historical fiction. The main character Rowdy Slater was inspired by a real life soldier featured in the Band of Brothers named Wayne "Skinny" Sisk.
Skinny Sisk was a skilled paratrooper in real life, yet he was generally thought of as the most incorrigible man in the company. Apparently he was always getting in bar fights, drinking too much, visiting brothels while on leave, that type of stuff. After the war, Skinny came home, turned his life around, and eventually became a small town preacher. He died in 1999 in West Virginia.
Everything about Rowdy Slater's life has been fictionalized, including the company he fought with. None of the specifics of Skinny's life were used in this novel. Yet that one big story idea sat in my mind a long time while I was planning this novel, and that's where this story starts—with that juxtaposition in mind. An elite incorrigible paratrooper becomes a minister.
I asked myself, here's a man used to solving problems with a rifle or his fists … What sort of wild-hearted minister might such a man make?
What was it like for you to write in this genre?
Hard. If you're just breaking into fiction then conventional wisdom says you need to stick with established commercial genres. Predictable stuff like whodunits or bodice rippers.
Right away my story wasn't predictable, and I knew the book I wanted to write wouldn't fit neatly into any category. That scared my agent a lot.
I knew I wanted to write a book that would appeal to both women and men, and that scared my agent even more, because men aren't known to be big fiction readers, even though there are a ton of men out there who love to read great books.
I also wanted to write a book that had a strong redemptive element in it, sort of like "Les Miserables" by Victor Hugo or "Peace Like a River" by Leif Enger. Yet the book still needed to appeal to secular readers, my main readership base from my other books. This is really tough to do.
So I knew this story was a longshot from day one. A big underdog. When we shopped the manuscript to publishers, we had tons of acquisition editors tell us they absolutely loved, loved, loved the story and writing style. More than one literally stayed up all night to read it, they said.
But when the book reached the sales teams at various publishing houses, the bean counters, they'd shoot it down. Sales people at publishing houses aren't known to be risk takers. The sales guys simply hadn't seen a book like this, so they didn't know what to do with it.
Finally one publisher, River North Fiction out of Chicago, was brave enough to bite on it. And the risk is paying off. People love the book, both men and women. Secular reviewers are giving it big thumbs up. The underdog is barking at the moon. 
You've written nonfiction for so long. Why the switch to fiction?
Fiction offered me a big blank canvas that allowed me to be as creative as I could be.
With a novel, you need to bring alive everything, dream up everything. The characters. Story. The world they live in. The conflicts and challenges that arise. How the characters overcome those obstacles. How everything resolves satisfyingly at the end.
I have a strong respect for nonfiction and the process it takes to research a story and produce a winning book. Undoubtedly I'll continue to write nonfiction, particularly collaboratively. Yet the opportunity to write a novel held out strong allure to me. I knew I needed to head that direction to see if I could make it.
How long did it take you to write this novel?
About fourteen years.
Wow. Really?
In a round-about way, yeah. When I first started writing fiction, I was already an established writer and newspaper journalist. I figured that since I was a pretty good writer already, all I needed to do was sit down at the keyboard, and the next "Moby Dick" would flow out of me. Boy, was I wrong.
I've actually written three and a half other novels before this one that needed to be thrown away. All of those throwaway books had strengths, but none of them were good enough to be published. Fiction writing is an extremely competitive field, and these other books all proved to be learning experiences for me.
Writing a few throwaway books first is pretty typical in novel writing. There's a unique set of rules that every author needs to learn before he can succeed. It's a very steep climb to break in and succeed.
How did you learn this specific process of novel writing?
After I'd written a few novels that didn't find publishers, I wised up and started studying books on the craft of fiction writing and story structure. I read book after book after book. It was like getting a university education all over again.
I also started reading more novels and studying them to see what made them work. Lots and lots of novels. Books that I liked reading. Books I devoured.
Pre-Order Feast for Thieves Today!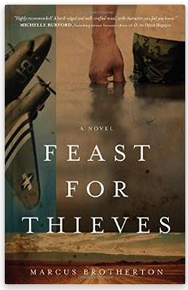 What novelists are you drawn to the most?
I read a lot of popular authors like John Grisham, David Benioff, Jan Karon, and the great Elmore Leonard.
Also a lot of classic and modern classics. Robust books by J.D. Salinger. Jack London. John Steinbeck. Mark Twain. C.S. Lewis, Harper Lee. Even Louie L'Amour. I love Cormac McCarthy's writing style. He wrote the Pulitzer-winning "The Road." That's nearly a perfect book, I'd say.
I study anything and everything by Hemingway. He reduces his writing to the simplest of word choices, yet he gets across extremely powerful concepts and feelings. I've copied out long portions of Hemingway books, just to have the feel of his words pass through my mind and fingers.
Not counting the throwaway books, how long did it take to write FEAST FOR THIEVES?
Although I've written a ton of successful nonfiction books, I didn't have a proven track record with fiction yet. So no publisher was going to give me an advance to write this thing. That meant I needed to write the whole novel first—on "speculation"—it's called in the industry.
So I wrote a proposal for my novel and completely outlined the book, then wrote the first three chapters and showed it to my agent. He liked the uniqueness of the concept and thought that even though it was an untraditional genre, he could probably sell it anyway based on its strengths. So he gave me the green light to proceed.
After that I sat on the outline and sample chapters and waited for about two years until a spot came free in my schedule where I could write the rest of the book.
What did that free spot look like?
Funny story. In April 2013 my wife gave birth to our third child, a beautiful baby girl named Amie-Merrin. I budgeted three weeks off my regular work schedule so I could be available to help out at home.
After the baby was born, I went to the pharmacy a few times, washed a few loads of laundry, did some dishes, that type of thing. But with a brand new baby, most of the work of caring for the baby falls to the mother, out of necessity. There's just not a lot a dad can do until the kid gets a bit older.
Things were going smoothly at home, so I said to my wife, "Look, I can either sit around and watch reruns of Matlock or go write my novel."
"Go, go, go!" she said.
So I did. The adrenaline was flowing anyway, thanks to the new addition in the family. No one was sleeping much. I just parked myself in front of my keyboard and pounded out the book.
A whole book in three weeks?
It was crazy. Sixteen hour days. Massive word counts each day. I'd had the whole book in mind for some time, so that helped a lot. Still, it felt supernatural. The writing absolutely flowed like never before.
After the three weeks, I went back to regular editing projects to keep revenue flowing in. Over the next few months, mostly weekends and early mornings, I rewrote and refined the novel in sections.
Tell us about some of the other characters in the book. Who else will we find?
A wild mix of ex-military men, women of ill repute, jail house bandits, guys who like to fight, cranky church secretaries, orphans, sheriffs, nearly-dead store owners, beautiful smart women who can handle rifles, and good cooks. Lots of food is featured in this book, definitely. Can't have a book set in Texas without good food.
What do readers love most about FEAST FOR THIEVES?
The producers for the Fast and the Furious franchise describe their movies as "reality plus thirty percent." My novel is a little like that. "Reality plus ten percent" maybe. It's fun and fast and filled with action.
It's also got a poignant side to it with layers of meaning. The story makes you think and feel and contemplate life, too. You could read it once, set it aside for a year and then read it again, and see new nuances in the narrative.
This book is the story of one man and his post-war journey of discovery. At the same time it's the story of an entire fictional town called Cut Eye, Texas, and how the town grows and morphs over time.
Overall, it's a portrayal of people living on the other side of a big conflict. They feel this sense of relief, yet there's also sorrow and grief to contend with. There's a new life to discover and establish. There are new ways to do business, old relationships to break, new relationships to start.
These are universal truths that every reader can relate to. How do you find your way in the world? When the going gets tough, who are you really at your core?
Book-wise, what's next for you?
The publisher is interested in a sequel to "Feast for Thieves." I'm excited about that possibility. I'd love to do another novel.
These are characters who are compelling and strong, intriguing enough to continue with for a long while to come. People are eager to find out what Rowdy Slater and the gang are going to do next.
Pre-Order Feast for Thieves Today!

Read more on the Faith and Family Channel – follow me on Facebook,  Twitter, and Instagram!