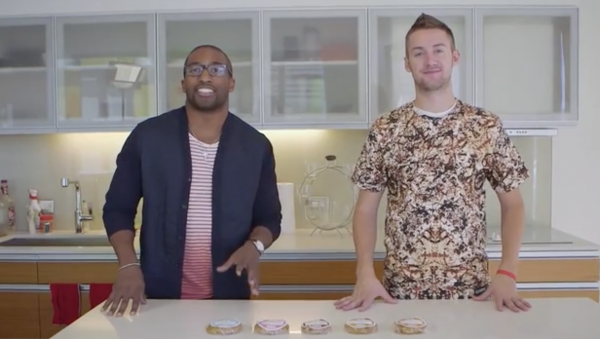 Okay, maybe I overstated that a bit, but Marquel Martin, from Andi's season of The Bachelorette, has asked me to shed some light on his latest business venture which combines his love of cookies with topical social charitable causes. Here's the gist – Marquel is looking to open up a cookie shop in his hometown of Las Vegas as well as an online store which will ship his cookies nationwide. His menu will be based on the demand he sees from social media and he has committed to share a portion of his profits with notable charitable organizations. Sounds pretty good right? 
 In an e-mail, he described it this way:
To give you a brief description, I envision Social Cookie to be a fun, interactive, and social environment that offers a lounge-type atmosphere while serving different types of gourmet cookies, ice cream/yogurt, milks, coffee, dessert wines, and other tasty complimentary cookie items. We will be successful because we have a concept that is different than any other – our menu will be based around what is hot and happening on Social Media! 
Listen to Marquel tell you the whole story here on his Kickstarter video:
So here's the deal, Marquel needs our help. He needs us to help him raise $50,000. If you don't know how Kickstarter works, he won't receive any of the funds pledged unless he reaches his goal of $50,000. If he does not reach the targeted goal, no one is charged anything. 
Kickstarter is an amazing tool for entrepreneurs who are willing to use the innovating tools of the internet to build their business.
I, for one, am going to support Marquel for two reasons. One, Marquel stood for Jesus on The Bachelorette and I admire him for doing so and want to show my gratitude. Two, I'm an entrepreneur as well and I love seeing people pursue their passion. So please join me and let's see Social Cookie come to life!
Want to give money to support his vision for the "the first social-media inspired treat?"
I will get the ball rolling with a $100 pledge.  Who wants to match that?
Click here!  Good luck, Marquel!
Read more on the Faith and Family Channel – follow me on Facebook,  Twitter, and Instagram!