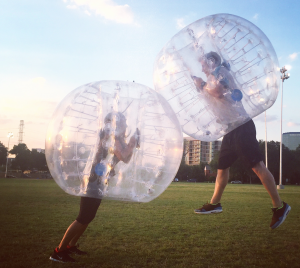 On Friday, I spent the day preparing a party for Catherine and her friends. I rented bubble soccer to play in the park for a couple of hours before heading back to our house for a pizza party of course. If you haven't seen bubble soccer yet, you have to check it out. We had so much fun knocking each other over and playing a ridiculously sweaty game of soccer in the park. As I mentioned, we headed back to our house after for a pizza party at our house and I surprised Catherine with a Spongebob Squarepants themed party. Yes, I know Catherine is 29 years old but she loves Spongebob. So I decked our house out with decorations, plates, cups and even a cake that read "Spongebob Squarecat".
And lastly, tonight we are celebrating Catherine one last time as we spend time with my family at my parent's house. I'm sure we'll eat until we can't move and then hopefully watch Manny Pacquiao beat Floyd Mayweather. There are so many reasons I love Manny Pacquiao: he's humble, Godly, great competitor, but the main reason I root for Manny- he's a filipino icon and I'd be disowned by my filipino family if I didn't!
So needless to say, this week was a pretty awesome week and I consider myself extremely blessed to be able to celebrate my wife and do the incredible things we get to do.
Read more on the Faith and Family Channel – follow me on Facebook,  Twitter, and Instagram!