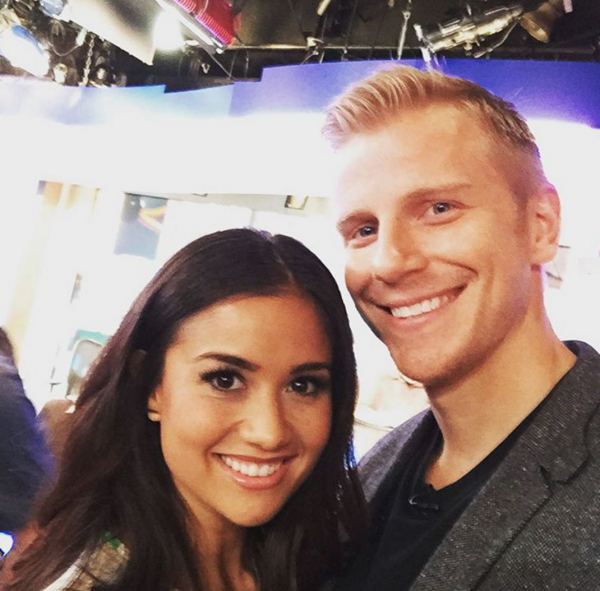 This post is not easy for me to write.
I'm sitting here at my desk wondering how to convey and organize my thoughts so that you all can understand my heart. I guess I should jump in head first, be completely open and honest, and start from the beginning.
I believe it was last April when I received an email from my manager about Marriage Boot Camp. I was at the gym at the time and I remember looking at the email, seeing the words "Marriage Boot Camp" and seeing a very generous offer attached. I remember mentioning it to my friend Jason who was working out with me and laughing at the notion of Catherine and me taking part in a show like that.
For those of you who haven't seen the show, it's a reality television show that features usually five couples. They get the benefit of counselors' marriage advice and have to decide at the end of the series whether they should stick together.
"No thank you," I quickly shot back to my manager. I thought that would be the end of it. Later that afternoon, he responded with a suggestion.
"Instead of saying no, why don't we just come back with a crazy counter offer?" he said. "Let's just see what they say."
I thought about it for a moment. I guess it couldn't hurt. My manager doubled their already generous offer and — to my surprise – the folks at Marriage Boot Camp agreed. So there I was, looking at a substantial amount of money for what would amount to two weeks worth of shooting a reality show.
I still wasn't on board, but they had my attention. I went home that afternoon and shared everything that transpired with Catherine. To my surprise, she was much more open-minded than I was about the whole idea. This came as a surprise to me because Catherine never gives much consideration to money (it's one of her best traits). "It might make our marriage even stronger," she said. "And the money will be a blessing too."
I knew nothing about the show except that our good friend Trista Sutter and her husband Ryan took part in it the year before. We, of course, called Trista to get her opinion on it all. We spoke to Trista for forty-five minutes that day and she filled us in on just about everything. Like us, the money offered would benefit her family but she said many times that the show was a blessing in other ways. She spoke about how they had formed friendships, how they actually learned things that benefitted their marriage and how wonderful the two counselors Jim and Elizabeth Carroll were.
Not everything was positive. The negatives included a lack of privacy, drama in the house and confinement in a house for two weeks. They said that alone could drive you crazy. Overall, they had a positive experience and they would recommend doing it. We also asked her how she handled the criticism for taking part in a show like Marriage Boot Camp. Trista said for the most part, she and Ryan flew under the radar and hardly anyone noticed. After speaking with Trista, Catherine was felt a sense of peace about doing the show and I was actually warming up to the idea as well. Although I didn't feel a sense of peace in my heart about it all, Catherine did and after much conversation, we agreed to do the show.
I'll admit it: I did it for the money.
That sounds really ugly and cheap, but it's true. Catherine and I have been blessed to make a portion of our income through things like speaking engagements, my book, DWTS, etc. but we don't rely on those things to pay our bills.
As I've mentioned, I do real estate development projects in Dallas with a business partner. The money from the show could propel that business forward and help Catherine and me plan for the future. That's about as real as I can be. I wish money wasn't a factor in our lives, but it is. This money made a difference. I'm sure many will label me a "sell-out" and honestly, I'm not sure I could argue the point.
I can't tell you how many times I went back and forth on this decision. I hated the idea of being the reality TV guy who seems to do everything in his power to ensure that the fading spotlight shines his way just a little bit longer. I hated the stigma of Marriage Boot Camp being attached to Catherine and me given how great our marriage was (and still is).
For those of you who don't watch much reality tv, this might not make sense. After all, Catherine and I met on The Bachelor. However The Bachelor franchise is a silly, fun show. I'm not sure many people actually believe the relationships will work out, but are pleasantly surprised when they do. (I am VERY thankful that it worked for us!) Marriage Boot Camp has a stigma of showcasing people who are "professional reality tv" contestants. I don't want to be that guy. Catherine is definitely not that girl. "Fame" (though I hate to call it that) will be fleeting in my life. That's not a bad thing. I want to stay tucked away with Catherine and our dogs (and one day children) and raise a family. That sounds like peace to me. I didn't want something like "Marriage Boot Camp" to tarnish our reputation and good name.
I know it seems crazy to do the show after listing those concerns. Ultimately, I agreed to do the show for three reasons:
1. First, the money as I mentioned above was going to be a blessing to us.
2. Two, Trista told us that it the show aired without much notice, which gave me a little comfort that it would come and go relatively quietly.
3. Three, I still had confidence that no matter what type of show it was, we would be able to represent our faith in Christ. In other words, I was confident we could still shine light in a dark world.
I wanted to go ahead and get this out of the way… since every interview the first questions we're asked is "why did you do this?"
I have more to say about the show, our experience, and a few regrets. But this is the not-so-pretty, unfiltered truth behind our decision to go on the show in the first place.
Read more on the Faith and Family Channel – follow me on Facebook,  Twitter, and Instagram and check out my New York Times best selling book: