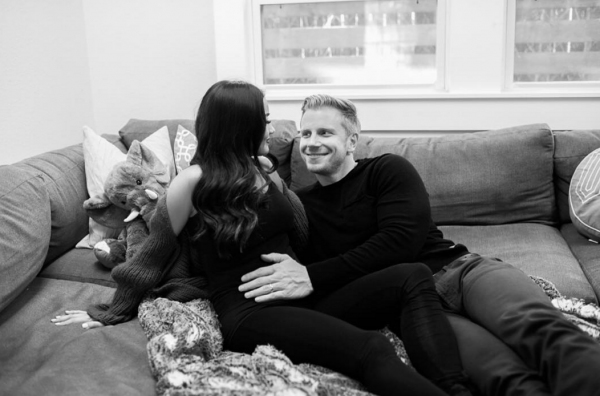 Thank you so much to everyone who wished us well on Tuesday when we announced our big news! You have no idea how special you all made that day for us. Catherine and I consider ourselves so blessed to be able to share news of this magnitude with so many people who have been genuinely rooting for us and supporting us since the day we first met.
Here are five random thoughts I've had about our baby:
1) I hope I'm half the father my dad is. My dad has shown me how to be a loving, fun, Godly father and now I have the responsibility of being the same kind of dad to my son or daughter.
2) I cannot wait to see Catherine as a mom. I've never met anyone who loves harder than my wife. This baby is going to have a mother who will love her with every ounce of her heart.
3) Like most guys, I'm secretly rooting for a boy… but I know that if we have a girl, she will have me wrapped around her little finger from day one.
4) Catherine and I can't wait to see our dogs around the baby. We're hoping they have that innate sense to protect the baby and love the baby. Catherine says she just wants to see our boxer Lola snort (which she does constantly) in the baby's face.
5) I think the thing I'm looking forward to most is having the little boy or girl fall asleep on my chest for the first time. Sounds sweet right?
Thanks again for all of your support and I'll be back tomorrow to answer your questions.
Buy my New York Times Best Selling Book For the Right Reasons: America's Favorite Bachelor on Faith, Love, Marriage, and Why Nice Guys Finish First
to learn more about how Catherine and I met!
Read more on the Faith and Family Channel – follow me on Facebook, Twitter, and Instagram!