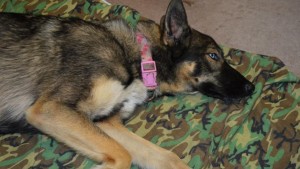 When fisherman Nick Hayworth's dog fell overboard and vanished from sight in the middle of the Pacific Ocean, he assumed he would never see his beloved companion again.  But little did he know just how tough his four-legged friend was.
Yahoo! News explains:
The 1-year-old German Shepherd, named Luna, was first reported missing the morning of Feb. 10 about 2 miles off of San Clemente Island by her owner — Nick Hayworth, a fisherman — according to Sandy DeMunnik, public affairs officer for the US Navy's Naval Base Coronado.

"He told us Luna was a very powerful swimmer and that he was 90 percent sure she'd head for shore," DeMunnik said. "So our staff searched the island, but with no luck. He stayed in the area for two more days to look for her, and after a week, we considered her lost at sea and presumed dead."

But this past Tuesday morning, the dog showed up to greet Navy staff arriving on the island for work.

"They saw Luna just sitting on the side of the road wagging her tail," she said. "Keep in mind, there are no domesticated animals on the island, so it was a stunning sight."

Navy staff were able to determine Luna was the dog who had fallen off the boat last month, DeMunnik said. She added they immediately informed Hayworth that Luna was found alive and well.
It appears Luna survived the harsh elements and El Nino storms by hunting and eating mice.  I'm not sure if Ellie and Lola could do that, but I'd hate to imagine life without them.
(Photo: ABC News)
Buy my New York Times Best Selling Book For the Right Reasons: America's Favorite Bachelor on Faith, Love, Marriage, and Why Nice Guys Finish First
to learn more about how Catherine and I met!
Read more on the Faith and Family Channel – follow me on Facebook, Twitter, and Instagram!