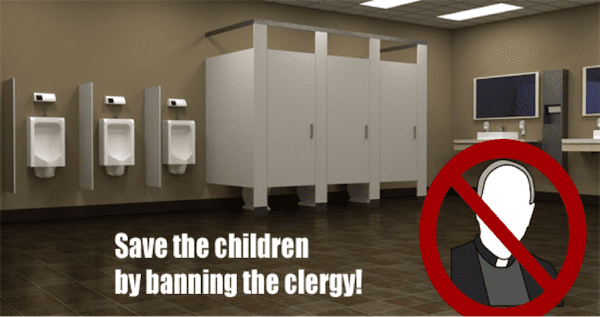 Guest post by Profet of Church of the Fridge
We know for a fact that men of the cloth are sometimes responsible for sexual abuse of children. Maybe not all clergy, but by allowing priests to use the same facilities as our little boys, we are putting our children at risk.
The John Jay study found that 149 priests were responsible for more than 25,000 cases of abuse over a 52-year period. These are numbers we shouldn't ignore, people.
Lay clergy should not be immune to this ban either. It is well documented that even the respectable Mormon religion has cases of sexual abuse we should worry about. Unfortunately though, Mormon clergy are not as easily recognizable by their attire. To handle this, I propose a clergy registry list where people can look up pictures of their local pastor and report them attempting to enter a public restroom.
There are a lot of perverts out there! We already know that they seek out positions in organizations of faith where they can interact with our precious children. And it is a given that they need to use the restroom like the rest of us. Surely you can see this a reasonable ban — join me to help protect our children from this risk.
Help us promote the idea that registered clergy should be banned from public restrooms. If a person dresses up as a priest or priestess, they should not be allowed in such places of privacy where our youth are already at risk of transgendered people! Who knows, we can't tell if they are an honest kind person of faith or just a pervert wearing a clerical collar. So why take the chance?
It's for the safety of our children and it's the will of the Fridge. That's how you know you shouldn't dismiss this warning of impending doom.
So join me in the fight to ban clergy from bathrooms! If a pervert can dress up like a girl and call himself transgender to get into the toilet with our kids, then surely you realize how they might be even more tempted to call themselves Father Happy Pants just for a glimpse at a wee wee doing a pee pee!
Now that I think about it, it would make our kids even safer if we banned clergy from being alone with them altogether! (Did you know some clergy actually ask young children about sexual conduct?) Ask yourself this. Can our children ever be safe enough? If you know the answer to that, you know what to do.
---
PROFET blogs on religion, belief and the consequences of faith at Church of the Fridge. His goal is to make myth do humanity's bidding instead of the other way around.