"One must do things sometimes to make life more bearable." –St. Teresa of Avila
While I'm suspicious of gratitude projects and listicles make me twitch, I've found that reading about the little things that keep other people's heads above water makes me love my fellow humans a little more.
As I type this, I can hear the glorious sound of water dripping outside my window, which after three winters Up in Michigan is akin to the choirs of angels singing glory to God in the highest. This means I might see spring this year, instead of that sorry season I've learned to call "little winter." In the meantime, I've buried myself in work to prevent myself from noticing that the sun is still on its 6-month hiatus.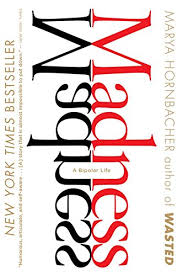 I'm reading books about mental illness and creativity like Touched with Fire: Manic Depressive Illness and the Artistic Temperament by Kay Jamison and Madness: A Bipolar Life by Marya Hornbacher. The first is a fascinating scholarly study of the link between mental illness and creativity throughout history–with detailed statistical analysis of the reported mental states of everyone from the great British poets to the Iowa Writers Workshop. The second is a contemporary memoir that perfectly captures the whip-lash associative thinking of mania and the crushing void of depression. Reading it is very like riding out a manic episode–it's exhausting, terrifying, funny, sad, disturbing, and exhilarating all at once. It's also, dare I say it? Inspiring. Hornbacher doesn't undercut the disabling pain of mental illness, but her creative abilities and sheer determination to exist offer powerful witness to the singular artistic (and human) experience our illnesses might lead us toward. It's strikingly pro-life.
Sick Pilgrims, what's keeping you alive this March?
Jonathan Ryan is our co-founder and author of Three Gates of the Dead.
James Michener's Centennial: Look, I'm a history geek and and I make no apologies for it. That's why I love Michener's writing–this novel basically begins with how the Rocky Mountains were formed. It's a classic frontier epic that's helping me to prepare for my upcoming journey west with my hooligans.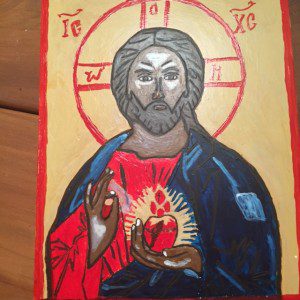 Pope Francis's children's book: I've read great tomes of theology. Tons of them. More than I can remember, actually. And yet, very few of them have moved me as much as listening to Papa Frank wrestle with the deep theological questions of children. He is a true Papa.
Icon writing: My first one was the first painting I probably had ever done since pre-school. Folks, I have no artistic talent whatsoever. But I love painting Icons. Right now, I'm working on the Sacred Heart of Jesus. No, my artwork will never be feature in museums. I just do them as a devotional practice.
St. Louis Cardinal Spring Training:  I can still picture myself in a hot farmhouse with no air conditioning. My room was on the top floor and I couldn't sleep. I often suffered from terrible nightmares as a kid. What did I do? I turned on the radio to a local radio station that played the St. Louis Cardinal baseball games: comfort for a lonely kid who couldn't sleep. Plus, you know, I don't feel morally dirty when I watch baseball, which is
more than I can say for pro-football.
***
Matt LaFleur writes from southern Louisiana.
My trike: Most people who get excited about tricycles are five years old. Well, I'm 30, and I love my trike. It's officially termed a "recumbent trike," and it's designed in a way that allows people who use wheelchairs most of the time to exercise their legs and get in some much-needed cardio. I've had it since Ash Wednesday and am noticing even in that short time the muscle development in my lower legs, not because I see a difference but because, for the first time in over a decade, my legs feel sore. And (hopefully not sounding like a creepy masochist) I'm loving that pain.
Louisiana weather can be a divisive topic among locals. As someone ill-equipped for the cold, I am loving that it hasn't gotten much below 60 degrees this winter. This makes it easier for me to spend time outside, and that's a huge plus for a sedentary lifestyle. (*Jessica is doing a shot right now and putting on a sweater and trying not to hate Matt)
Cinnamon whiskey and cream soda. Truth be told, I'm not much of a beer drinker, but I'm a big fan of alcohol and its effects. I also have a love for sweet food and drink. Discovering this combination was awesome. 
The community of saints. I hoped to include one really high-brow spiritual activity, but none currently stand out. In the midst of this dry period, I'm thankful and encouraged by belonging to a community of believers who constantly have my back, even when I spiritually suck.
***
Colleen Connell Mitchell blogs at Blessed are the Feet. 
Frankincense essential oil. It is hard to be surly when you smell like High Mass. Plus, healing properties and all that.
Andrew Peterson. His music is like all the other Jesus music. Only a million times better. (*Plus he writes children's books! We heart children's books here.)
Two Monks Inventing Things. When I read this series at The Toast, I laugh and I cry and I laugh and I cry. Like a Saturday night at a youth retreat.
MONK #1: what do women do when men aren't around
MONK #2: sit around naked in a tiny stone cage and knife unicorns, i bet

Two Monks Inventing Things is one of our favorite gifts of the internets

MONK #1: yeah
me too, i bet
i bet that's what they do a lot
***
Tammy Perlmutter writes from Chicago and is the founder of The Mudroom.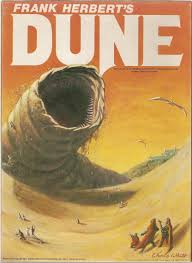 My infinity scarf. Yes, I have had to enlist the help of others on how to get it to fall just right, but I think I've pretty much mastered it now. It's like being hugged around the neck all day long. I sometimes sleep with it on too. (*Jessica also sleeps in a scarf, because she lives in Northern Michigan)

Sci-Fi. With reality being what it is these days, I need somewhere to escape to that is not the inside of my mind. I'm immersing myself in Star Trek, Doctor Who, Ender's Game, Blade Runner, Firefly, Pacific Rim, X-Files, and Dune. These stories remind me that the hero is not dead, but just lives in another universe, on another planet, or in the future.
The Mudroom & Sick Pilgrim. Working alongside a community of writers encourages me to go deeper and write more. Their presence, investment, and friendship has made this year one of the best I've ever had.