October is our favorite month for so many reasons. Down in southern Louisiana, the weather will finally start to cool off to like, 90 degrees. Matt Lafleur will enjoy days of brilliant blue skies and nights where he might even be able to open the windows or wear a long sleeve t-shirt. Up North, we'll get sweater weather–and both Jess (in northern Michigan) and Jonathan (in northern Indiana) will revel in the brilliant colors of the trees before they drop their leaves and the snow starts flying.
But let's get real. We mostly love October because it's the month when we hang up our skeletons for all to see. It's when even a trip to Michael's becomes a memento mori. It's when the death that's coming for all of us isn't only terrifying and heartbreaking; it's fun.
This is a truth that's essential to our faith and to the order of the created world. Death ain't all bad. Death is a necessary gate to something glorious–new life. Or, you know, a gate to eternal suffering and damnation. This is the month we open that big black gate and revel in whatever might be behind it. In November, that gate will close again, and we'll have the more somber remembrances of our saints and all the souls who've gone before us. Also–Up North, we'll have snow. Lots and lots of snow.
So for now, let's party.
This month, we at Sick Pilgrim are going to celebrate some of the things we love best: ghost stories, dark wave music, posts about witchcraft and folk Catholicism, and weird catholic tales that will get us in the spirit of All Hallow's Eve and prepare us to celebrate our favorite holy day: All Saints.
But because we don't believe all this spooky stuff is neutral, we ask, in the meantime, that our Patron Pilgrim for the month of October, Creepy (And Venerable) Fulton Sheen, the world's first televangelist, pray for our protection.

Oh wait, that's not Fulton Sheen. That's Bela Lugosi.
Creepy and Venerable Fulton Sheen, pray for us.
Alright, alright. That's not him either. That's Vincent Price reading The Raven by Edgar Allan Poe.
Pray for us, Rev. Sheen. We need it bad.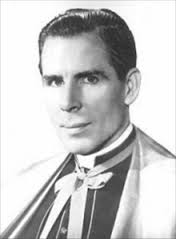 Fulton Sheen on the dangers of gloomy literature. If this don't skeer you, you're made of stronger stuff than I: