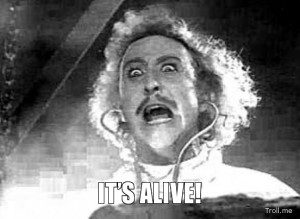 We've been relishing October here at the blog, though not for all the pumpkin-spiced crap. We enjoy the unabashed focus on the eerie, the ghostly, the supernatural; for many of us at Sick Pilgrim, they served as our gateway to Christianity and the Church. So this time of year is, in many ways, our homecoming.
This month we bring you our regular listicle of small joys with a twist: "Things Keeping the Undead Alive," suggestions for cheap-to-free things that will give you the shivers from our editors, regular contributors, and some pilgrims in our awesome online community.
This article on the science of fear in The Atlantic helps explain why so many sick pilgrims revel in the heart-pounding spookiness this month invites–and why scares are avoided by some of us (looking at you, Elise Erikson Barrett). I'm a sucker for psychology, and I'm not above seeking validation for my weird quirks. This is both.
True Crime, especially murder stories, holds a special place in my heart. (I never claimed to be normal.) The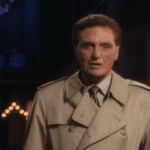 podcast Unsolved Murders: True Crime Stories has a title that doesn't make anyone wonder what it is. The voice reenactments, the cheeky but endearing banter of the co-hosts, and the dutiful research done on each case make this podcast a great listen. I feel like I've discovered the lost joy of a well-done episodic radio show. In television, The Jinx: The Life and Deaths of Robert Durst miniseries on HBO chilled me with a cold look at a real-life supposed murderer. Durst probably agreed to be on this documentary to prove his innocence. The show doesn't end as he hoped, though.
What about some other sick pilgrims- what's keeping our undead alive? –Matt Lafleur
***
Holly Taylor Coolman is a proud wife and mother who teaches theology at Providence College. She says, "I *really* love cemeteries. Memento mori!"
The cemeteries of Providence, RI. Providence is great. 20 miles square; at least 18 cemeteries. In the 17th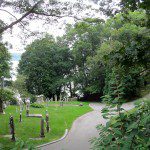 and 18th centuries, people would bury the dead in their backyards rather than in a cemetery. So, they're *everywhere*! Probably my favorite is the hauntingly gorgeous Swan Point Cemetery, a few miles from my house. Occasionally, you can still find a family mausoleum unlocked–and sneak in. Also, Providence College has a cemetery in the middle of campus, so I greet the dead as I walk from one class to the next.

***
Elise Erikson Barrett is a singer of songs, writer of books and Dark Devotionals, and our editor and encourager. We're still not sure why she agrees to hang out with us, especially since we've started referring to ourselves as the four horsemen of the apocalypse. She is Famine and rides a black horse. Check out her website for more details.
Spreadsheets. Seriously, many people find these terrifying. But on the advice of a friend, I've been making weekly spreadsheets for our family for about a month now. If it's not on the sheet, I don't do it. In many ways, this makes life feel one-dimensional and sad…however, it is helping enormously with the disciplines of getting enough sleep and only looking as far ahead as the next faithful act…which is usually something glamorous like "work on your day job" or "clean the litter box and prep dinner."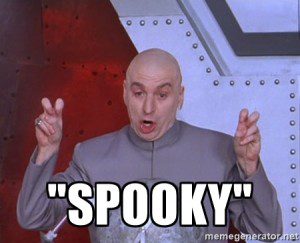 Nazis and Christians. I am auditing a Bonhoeffer course being taught by my friend Rob Saler at Christian Theological Seminary, and reading that biography…well. The most terrifying thing ever is how all of us, nation/state-patriots and pastors and everyone in between, can find ourselves in thrall to/trapped by the forces of evil. The most comforting thing ever is seeing how Jesus acts and redeems and loves in the midst of the worst. They killed Dietrich Bonhoeffer, which reminds us that we killed Jesus, which tells us that the suffering love in which we are held is profound and persistent beyond our comprehension.
***
Poet Michael Delp lives in the frozen North (of Michigan) and is not Roman Catholic, but he is intrigued by certain parts of the Catholic faith. Check out his most recent book, Lying in the River's Dark Bed.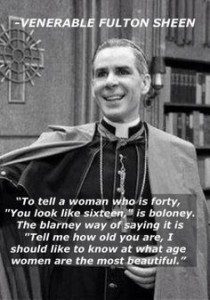 Sick Pilgrim's Patron Pilgrim of the Month, Bishop Fulton J. Sheen. My early childhood memories of Bela Lugosi have now merged with images and memories of watching Bishop Fulton J. Sheen on television in the 50's. Gaunt and peculiarly skeletal, he literally filled up our tiny B&W screen where we lived on Orange Street. He now haunts my dreams. Last week he showed up as an embalmer. I lay on a table under the stars in the woods near my cabin. He came after midnight, slid a huge, silver syringe directly into my heart and transferred all my blood into Mason Jars, which he took, one at a time, up to his house, which was literally in my attic: a bat- cave of sorts, lined with black mink fur, several candles and a small TV screen where " Nosferatu" was playing on 24/7 loop. I recall from the dream he churned those blood jars into a kind of ice cream and licked the spoon until it melted.
***
Jessica Mesman Griffith is Sick Pilgrim's Cofounder. We call her Death. Affectionately.
Reading weird stories by the fire. I finally have a fireplace, and honestly, I don't know how I've survived three Northern Michigan winters without one. Also, I am finally reading Arthur Machen, and I don't know how I survived without him either. I now know that all the things I love–even Stranger Things!–lead back to this eccentric Welshman. On their way to the Church, of course.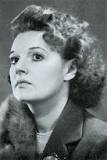 I'm also re-reading Memento Mori by Muriel Spark, a Catholic writer who understood the terror and necessity of being shocked out of a comfortable existence by being reminded of one's inevitable death. As The New Yorker noted, Spark's novels continue to astonish:
…thanks, as it happens, to their "dykily psychotic, crippled, creepish," morally dubious glory; their kinky nuns and schoolgirls; their meddlers and murderers; a grandmother who smuggles diamonds in loaves of bread; a young woman on holiday who meticulously plans her own murder, down to picking out the tie she intends to be strangled with.
Decorations that lift the veil to a demonic hellscape.
I took a walk to mail some letters at the post office in downtown Traverse City, which might be the safest, most wholesome place on earth, but at this time of year, it's littered with decaying corpses. The antique shop next to my favorite coffee house has a window display that makes my hair curl: a demonic doctor performing bloody experiments of dismembered baby dolls. This is the one time of year when we get to see what it might be like if the underworld was let loose. Or maybe, if we really saw our world as it is. Someone mentioned in the comments to my last Dark Devotional that it is only grace that hides the unimaginable horror of evil from our eyes–that if we truly saw the world as it is, we'd all be insane. Coincidentally (or not), that's also the theme of
our favorite Arthur Machen book
.
***
John Robinson is a tattooed metal-head who teaches MMA. He is the sargeant-at-arms for us gloomy waifs at Sick Pilgrim.
The macabre metal of Zao. Not a Christian band, but a band with some Christians in it,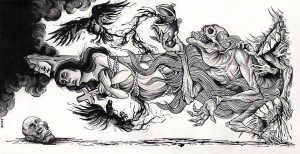 the lyrics are a far cry from any contemporary Christian music you may have heard. The music is heavy, dark, and the lyrics fitting for this season…the shortened days make me think of the brevity of my life.
"The fire burns, the fire burns

As leaves they fall and twist and turn

Gather thoughts to be unlearned

Wooden cribs to marble urns"
…Sometimes I wonder how I'll die and if my life has had much meaning to those around me, and more importantly, how do I matter to God? Like the artwork depicts, I'll one day burn or be swallowed up by Death in the earth, clinging to the cross and look upwards to heaven,
"Despair to stillness, all is revealed …"
***
Stay safe, pilgrims.
Til next time,
Pest.