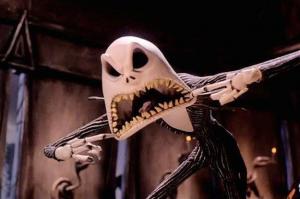 "Boys and girls of every age
Wouldn't you like to see something strange?"
That question begins the song written by Danny Elfman for Tim Burton's weird/creepy/endearing The Nightmare Before Christmas. I love that movie, not in spite of its oddness, but because of it. The same can be said of my feelings towards Halloween in general. I love how the remnants of the Puritans want to ignore the creepy carousel of ghosts, witches, costumes, and candy. From a high-brow perspective, God and your faith shouldn't have to run from the dark. From a low-brow perspective, candy and thrills are awesome.
Whatever is going on in our own lives right now – whether we are thrilled for Halloween, indifferent, or quietly suffering while no one else knows – we at Sick Pilgrim like to give you a list of a few feeble things that bring small joy to our lives right now. These are the things that keep us going, that remind us that, if just for a moment, everything is okay.

One of my own small joys was the weekend I spent in Philadelphia for the 10th annual Friedreich's Ataxia Conference, the first event like this I've attended. Having a rare disorder has one main strange effect – feeling like you always have to explain the symptoms, because most people are unaware why you seem clumsy, for instance. But being around so many people who knew and faced the same struggles as me… well, that's more than a small joy. The current research and scientific advance discussed were thrilling, but the largest takeaway was the feeling of community.
And of course, my favorite holiday is here. Scary movies are everywhere. Scary decorations and costumes are the norm. "Memento mori" is inescapable. Plus Milk Duds in fun-sized packs are on sale. God bless Halloween.
I asked some other Sick Pilgrims to share their small joys.
*****
Colleen Connell Mitchell is the author of the book Who Does He Say That You Are?. For Halloween, she is dressing as… well, you'll see.
Tank and the Bangas and her badass attitude and slight New Orleans accent and spoken word poetry combined with music and all the other things about her. In this case scenario, I'm the creepy one. As in, slightly obsessed in a way that might frighten her if she knew about it.
A glass of blood-red Pentagram. Also, the fact that every red wine on sale at your average American supermarket seems to be named after death, an evil super villain, or some dark magic. It's like wine is trying just a little too hard to be weird. Which is okay with me, because I feel you, wine. Every time you get weird, someone's just a little weirder than you, huh?
Going to work when I am the only one in the building. It's weird, but I love the dark, silent hallways, the glowing exit lights, the weird clean school smell. I'm in my happy place in a dark, old, creepy school building. I'm taking it as proof that I'm actually part ghost. Or that I teach at Hogwart's. Either makes having to go to work when you're off because teacher-ing is hard better. I mean, if Moaning Myrtle is hanging out somewhere in my family tree, does anything else really matter?
And the thought of dressing as Frida Kahlo for Halloween. Because nothing makes a mentally ill weirdo happier than dressing up than a more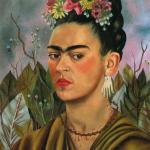 mentally ill weirdo, right? Thank you, Frida.
"I never paint dreams or nightmares, I paint my own reality." —Frida Kahlo
*****
Eve Alexandra writes surrounded by corn fields, and reads in between loads of laundry. She is a mother of seven, a recovering veil addict, and recently put the grim in pilgrimage.
A Storm of Witchcraft: The Salem Trials and the American Experience. I've been reading about these women with great fascination. There is very little evidence that any of these women were engaging in divination or casting spells. They did likely know how to use herbs to heal, and probably had some experience as midwives. Initially they were misfits; capable women who didn't fit the norm, and similar to the women who followed Jesus in Galilee. Eventually, every woman was at risk, though. And once accused, the only way to save yourself was to throw someone else under the bus. Which is eerily familiar. When I see trends that concern me in the politics of our nation, it helps to look back in history. What did other people do to recover sanity when witch hunts are taking over, in the name of Jesus?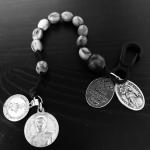 My string of beads. They aren't traditional prayer beads. After researching medieval rosaries, I discovered that there was a time when they were all different, highly personalized. So I made my own, and took them with me to Spain on the Camino, and then to England on the Pilgrim's Way to Canterbury. I call them my hoodoo beads, mostly for fun, but also because I kind of like that no one knows what they are. I can use them for all sorts of prayers. I can also just hold them when I'm anxious in church. They've been blessed so they are a true sacramental. I have a lobster clasp on them to wear as a bracelet. It is calming to know they are near. I'll probably wear them when I take my kids trick or treating too, along with some sort of witch attire . Because #solidarity. My favorite saints are the ones that were misunderstood in their time, called heretics by the religious leaders of the day. Just like the witches.
*****
Maren Grossman lives in Pennsylvania, where she knits and reads things but never ever watches Game of Thrones. Ironically, she is dressing as the Mother of Dragons for Halloween. Maren is an enigma.
This month I've been listening to everything I can find by John O'Donohue. It started with Krista Tippet's On Being interview. Then it was a series of lectures I found on Audible. Now it's Beauty: The Invisible Embrace. O'Donohue is a great narrator of his own work, conveying both gentleness and humor. The ideas are great food for thought too. In the Krista Tippet interview, he says a lot of great things. He asks "[W]hen is the last time that you had a great conversation, a conversation which wasn't just two intersecting monologues, which is what passes for conversation a lot in this culture. But when had you last a great conversation, in which you overheard yourself saying things that you never knew you knew? That you heard yourself receiving from somebody words that absolutely found places within you that you thought you had lost and a sense of an event of a conversation that brought the two of you on to a different plane. And then fourthly, a conversation that continued to sing in your mind for weeks afterwards. And I've had some of them recently, and it's just absolutely amazing, as we would say at home, they are food and drink for the soul."
This points to a second thing keeping me alive, which was a visit from my college roommate this weekend. We hiked and talked and ate pizza and bingewatched Stranger Things.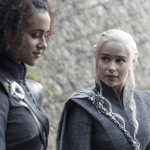 *****
Happy Halloween! Stay alive. See you next month.