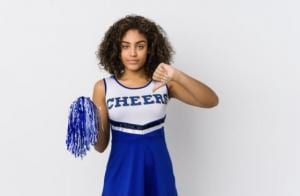 "Hey, Mom. Are you excited about Ash Wednesday?"
This is my daughter, who gets excited about everything out of the ordinary, from President's Day to going to the doctor's office for a shot. It's pretty ironic that she's my child, since I love the mundane so much that I used to co-author a blog devoted to the beauty of Ordinary Time.
"Um, sure. I guess."
All I can picture is a group of cheerleaders grudgingly mumbling, "Give me an L. Give me an E. Give me an N. Give me a T," with ashes on their foreheads and hollow, gaunt faces.
I have a hard time getting "excited" about Lent. I'd even argue that perhaps excitement isn't the goal of the season. The way I understand it, the goal is to mimic Jesus' 40 days in the desert through fasting, repentance, prayer, reflection, and almsgiving—all while leading our lives normally and not looking like we're fasting or suffering in any way.
A cradle Catholic, I remember dreading Lent as a child. Our whole family was forced to give up all sweets. In our home, we had dessert at every dinner (usually cookies) and a bedtime treat every night (sometimes cookies, sometimes a full-sized candy bar—yes, it's easy to see why I had terrible insomnia as a child). The sudden lack of treats always brought on my most sullen disposition, and a suspicion that my parents enforced this particular sacrifice to save a little money rather than bring us closer to Jesus. (This was a pouty and unfair assessment by my younger self, as our overflowing Easter baskets made up for lost sugar.)
I remember seeing a meme last spring that said, "2020 is the Lentiest Lent that ever Lented." In fact, most of 2020 felt pretty Lenten, and 2021 has not begun any differently. It's been so rough for many that it could be argued that giving something else up right now verges on scrupulous mortification rather than a form of repentance and prayer. (Yes, this depends on the individual. I'm not judging those who choose to give something up, nor am I judging those who deem themselves deprived enough already.)
Most Lents these days, I try to begin a new practice rather than giving something up. For those who feel depleted and in need of feeling God's ever-present love, Dr. Chanequa Walker-Barnes is leading a Lenten Self-Care initiative on Instagram. While this may not seem like an ordinary Lenten thing to do, these are not ordinary times.
I find poetry both soothing and challenging. The Salt Collective has a number of Lenten studies based on various poets, including Mary Oliver. I have been intrigued by these for several years, but our printer is unreliable, so I haven't taken the plunge and purchased the download.
Father James Martin has a new book out called Learning to Pray that would probably make a good Lenten meditation.
Unbound has a new Lenten study called Disabling Lent, which focuses on becoming anti-ableist.
Finally, the book I settled on for this year, Brick House in the City put out a Lenten devotional called No Unlikely Saints. The book looks closely at the lives of seven different saints, one each week throughout the season. Each day includes a reading and some reflection questions—a good short burst to carry with me throughout the day.
After being asked at least once a day for several weeks if I was excited for Ash Wednesday, I finally asked my daughter why she was excited.
"Because it's one day I know for sure we won't have meatloaf for dinner."*
I'll take what I can get.
*Dear reader, I promise you that we don't have meatloaf more than once a month at most.