These booklets appeared in our pews a few weeks ago: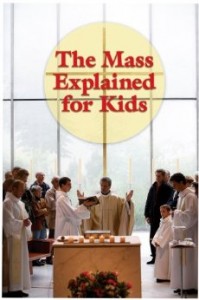 I will admit, I saw the cover and thought, "Ut-oh.  Glass-walled church, buncha laymen cluttering up the altar . . . this can't be good."  Well, the cover is the only ishy part.  The book itself is great.
The format is simple:  words of the Mass on the left, color coded explanations on the right.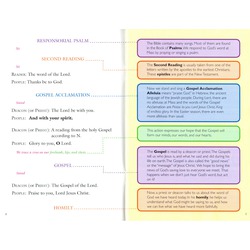 They explanations are more than just the standards "sit, stand, kneel, listen to the priest."  They explain what "epiclesis" means (I'll admit, I didn't already know), what "eucharist" means; why we make a cross on our forehead, lips, and breast; and when we are seeing bread and wine, and when we are now seeing the real body and blood of Christ.
It says "for kids," but there's no reason an adult couldn't use this missal as a guide. I suspect it was designed as a way to stealthily catechise parents who are helping their kids follow along.  Altogether nicely written and designed, easy to follow, meaty and free of fluff.
The booklet is cheap — just $1.87 on Amazon — and rather flimsy.  This means, of course, that parishes would be able to afford buying copies for everybody.  I do wish they would put out a hardcover edition so we could buy them for ourselves, though.  Anyway, if you're looking for a children's missal with the new translation of the Mass, I've never seen a better one.  If you have the cash, you might consider buying a few hundred as a gift to your church.
Jennifer Fitz reviewed it here in 2011, and I'm glad to see she liked it, too.
You can order it on Amazon here.