When Audible.com was looking for a voice actor to read my book, The Sinner's Guide to Natural Family Planning, they asked for my input; so naturally, I asked you guys for your advice, and you delivered.  What I finally sent them was this:
Anne Bancroft with a little bit of Marge Simpson.  A woman with a low, slightly raspy or gravelly voice, with an excellent sense of comic timing.  A "member of the tribe" would be great. Hope that helps!
I don't know if it helped or not, because they tell me they couldn't find someone just right.  So we're going with this chick: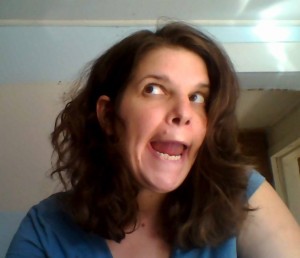 Yep, that's me, with my perfect face for audio.  I'll be recording the first session this Saturday, and the next one the next week.  I've been reading out loud steadily for fifteen years, so I think I can do this!  Goodness knows I know the material well enough.  My editor recommends preemptive ibuprofen, chamomile tea, and pear juice.
So, yay, new experience!  It's been kind of a theme this year.
Oh, and I will be making an announcement soon (this week, I super-de-hope) about the print publisher.  Gots to make it official before I make it public, but I'm very happy.