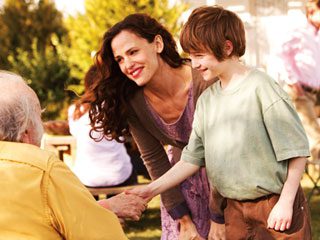 Cindy Green (Jennifer Garner) is a guide at a pencil museum. Her husband, Jim (Joel Edgerton), is a manager at the small midwestern town's key industry: a pencil factory. They meet with adoption counselors to express why they would make good parents.
When Cindy and Jim learn that their efforts to have a child fail, they are crushed. To heal, they write the characteristics of their dream child on small pieces of paper, place them in a box, and bury it in the garden. Now they can move on. But during a thunderstorm that very night, a young boy appears covered in mud. His name is Timothy (played by CJ Adams), and he has green leaves growing from his legs….
To continue reading click here .
For my video review and study guide to use with your family or groups visit "The Odd Life of Timothy Green"