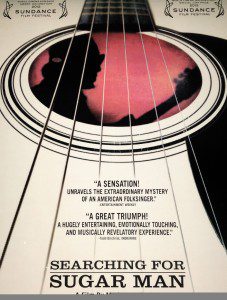 Music is the language of the soul and no one can ever know what a song means to another person never mind a nation.
In 1967 a young Detroit man named Sixto Rodriguez recorded a single that led to an album in 1970, "Cold Fact". This son of Mexican immigrants, who came to the U.S. in the 1920s, had the soul of a poet who "took the agony and pain of life and transformed it." After another album in 1971 the label dropped Rodriguez due to low sales.
Rodriguez' music made its way to Australia where the musician toured in the late 1970s.
In 1997 a South African fan began to search for "Sugar Man" (the title of the lead track on the "Cold Play" album). The singer had a cult following and a myth had grown up around his music and persona. Rumor was that Rodriguez had committed suicide in a rather spectacular fashion but his fan could find no details to confirm this. He examined the lyrics of the songs and located Rodriguez in Detroit.
Rodriguez discovered that his antiestablishment music marked the first resistance to apartheid in South Africa and as fans attest his music was "the sound track of a generation."
This unassuming and reverent documentary reveals the life and modest soul of an "inner city prophet" who has been a laborer all his life. When his friends heard about Rodriguez' success in South Africa, they could not believe it.
I was moved by his sound, reminiscent of Bob Dylan's grit and James Taylor's melodic groove, and by the warm astonishment of one of his daughters watching her father perform in South Africa – as she had never seen him before.
"Home is acceptance," she said when he played that first concert in March 1998. She is visibly moved as she watched her dad, "a manual laborer who lives a modest life, no glamour, on stage, playing and singing for his fans: it was seeing him as he really is, a musician."
"No prophet is accepted in his own country" Jesus says in Luke 4:24. Perhaps there were too many voices in Detroit back in the day, or a music industry machine that had no patience to develop Rodriguez as an artist. But South Africa heard his voice and the people began to dismantle its system of racial segregation.
The film was directed by Malik Bendjelloul and won both the Audience Award and Special Jury Prize at the Sundance Film Festival in January 2012 and 2nd Place Audience Award at the Tribeca Film Festival.
I really liked this movie. It is not often we get to meet a humble man, a troubadour who sings the truth about the pain, suffering, and injustice of life in the city. Rodriguez is a national treasure.