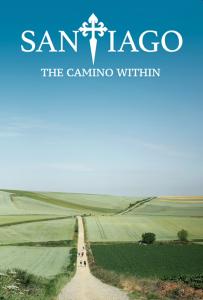 If you've followed my reviews over the years, you will know that I have  soft spot for films about the Camino de Santiago de Compostella in Spain. A new film will be in theatres one night only, Tuesday, March 28, 2023. Click HERE for ticket information. (Compostella means field of stars.)
What makes this film about the Camino slightly different from the others is its pacing, giving silent space for us, audiences making the Camino from a theater seat or a sofa, time to contemplate the lovely cinematography of what the pilgrims see. I especially liked the visits to many of the churches along the way. Actually, if you are a Camino-head like I am (seen all the films but never gone!), you will recognize some of the roads and sights, but not many. This means we are seeing even more of the Camino while perhaps waiting for the time we can make "the way" ourselves.
There are several testimonials from men and one youngster making the Camino; I wish they had included more comments offering the female perspective. The pilgrim from South Korea, who seems to sum up the reasons why many people make the camino: to renew and refresh the soul (but he should have let his wife speak more!)
Led by Bishop Donald Hying of Madison, WI, who also narrates the film, the pilgrimage through such holy land along such a holy way will inspire the viewer on their own interior journey into a contemplative relationship with God.
If you want to find yourself and the meaning of your life, this film can help you do that. My niece watched the 2011 film "The Way" with Martin Sheen and determined to make the Camino. She did. She made the ticket the day after she saw the film – and she wants to do it again. I think someone discerning religious life or the priesthood will find much food for thought here.
The film will most certainly be available for streaming soon, but the VOD site has not yet been announced.
Such a lovely, beautiful, spirit-filled cinematic experience, perfect as Holy Week approaches.