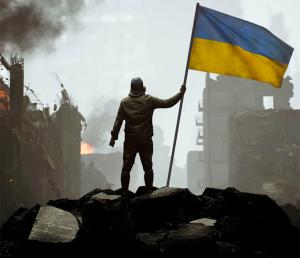 This moving new documentary "In Solidarity with Ukraine" from the Knights of Columbus is a look at the Catholic organization's incredibly swift response to Russia's invasion of Ukraine during the first few months after the invasion in 2022. It will begin airing on ABC affiliate stations across the USA for six weeks beginning today, March 26, 2023. Please check local listings.
It seems to me that the highly produced film has many purposes: to show how its members responded to human need, how they themselves live lives of faith, to empower others to do the same, and to make the Knights of Columbus organization better known and thus perhaps recruit some new members along the way.
The film highlights the giving actions by some who actually go to Ukraine bringing much needed medical supplies. It also showcases stories of the Ukrainian people who are enduring this tragic and challenging time through faith and action. You cannot help but be moved. Living the corporal and spiritual works of mercy in solidarity with the Ukrainian people sums up the film in a nut shell.
While I am always a little bothered and distracted by the KofC self product placement in their films, "In Solidarity with Ukraine" is a good watch.
From the press notes:
"In Solidarity with Ukraine" was produced by David Naglieri, director of film and digital media for the Knights of Columbus, and features commentary from Supreme Knight Patrick Kelly; Archbishop William E. Lori of Baltimore, supreme chaplain of the Knights of Columbus; Major Archbishop Sviatoslav Shevchuk of the Ukrainian Greek Catholic Church; Cardinal Konrad Krajewski, dictionary of the service of charity; Archbishop Mieczyslaw Mokrzycki of Lviv; and Scythian, a Celtic folk-music band founded by brothers Alexander and Danylo Fedoryka, who are first-generation sons of Ukrainian immigrants.