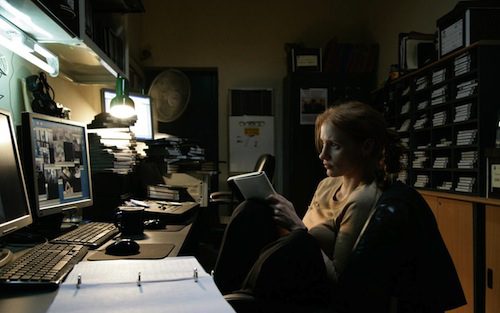 In the months and years following the attacks on the World Trade Center in New York and the Pentagon in Washington, DC and the crash of the fourth plane into a field in Pennsylvania, the CIA pursued Osama Bin Laden, the founder of the global terrorist network al-Qaeda who claimed responsibility for the events of September 11, 2001.
At a secret "black site" an agent, Dan, interrogates a man named Ammar (Reda Kateb) suspected of having knowledge about Bin Laden and his network. A CIA analyst, Maya (Jessica Chastain), watches as Dan (Jason Clarke) uses enhanced techniques to obtain information about links to Saudi terrorists. Ammar finally divulges the name of a courier to Bin Laden and other detainees corroborate the information. This leads to another man that Maya tracks for five years from her post in Islamabad, Pakistan. Following a lead, a team of CIA analysts arranges to meet an al-Qaeda insider, but is wiped out at Camp Campbell in Afghanistan while waiting to meet the contact. Maya is at lunch at the Marriott in Islamabad when a bomb goes off, and survives an assassination attempt as she is driving from her apartment.
By chance, another analyst finds something in a file that was closed years before. This leads Maya to identify a man who then unknowingly takes the CIA to a compound in Abbottabad, Pakistan. Maya is convinced this is Bin Laden's hideout.
Back in Washington, DC, Maya has to prod her colleagues and superiors for weeks before the director (James Gandolfini) and his advisors decide to trust Maya's analysis and make recommendations to the White House.
Director Kathryn Bigelow explains that Zero Dark Thirty "is a military term for 30 minutes after midnight, and it refers also to the darkness  …… To continue reading at Reel Spirituality click here