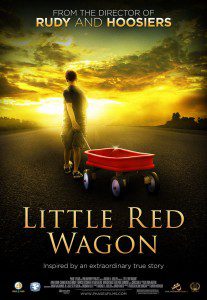 As Hurricane Charlie bears down on Tampa, FL in 2004, 7 year-old Zach Bonner (Chandler Canterbury), his mom, Laurie (Anna Gunn), and big sister 16 year-old Kelley (Daveigh Chase), board up the house and lay in supplies to wait out the storm.  But the storm changes direction leaving the Bonners will a lot of bottled water.
When Zach sees on television the devastation in Punta Gorde, FL and learns that 20,000 people are homeless and suffering, he suggests that they take the water to the relief center.  He then decides to involve the neighbors and he and Kelley put notices in mailboxes asking people to share.
Zach and his family are overwhelmed with the response as they collect goods in Zach's little red wagon. When Laurie gets home from her real estate job she is shocked to see that the garage is half full.   In very short order the family collects 27 loads of water and supplies.
Their across-the-street neighbors, single mom Ashley (Sidney Penney) and her son Mickey (Griffin Roper), are moving because they have to downsize. This is complicated when Ashley loses her job when the bank she works for closes without notice and mother and son end up living in their car.
Zach is preoccupied by the plight of homeless children and the local media tells his story. Zach starts the non-profit "Little Red Wagon Foundation" and makes up "Zachpacks" to give kids who are homeless.
Then to bring greater attention to homelessness, especially the effect on kids, Zach decides to walk to raise money. His first trek was to the state capital, Tallahassee.
David Anspaugh, known for the heart-warming sports films "Rudy" and "Hoosiers" (my absolute favorite sports film ever) directed "Little Red Wagon" and Patrick Sheane Duncan ("Mr. Holland's Opus") wrote the script. The production qualities are excellent yet the story is told with direct simplicity.  The main characters all have something to learn and though it might seem that too much emphasis is placed on Kelley's adolescent self-absorption and seeming lack of generosity, it sounded real to me.  When Laurie wants Zach to take a break from walking, the boy says thoughtfully that he wants to keep going because "the homeless don't get a day off." Chandler Canterbury's Zach is without guile yet avoids the cuteness trap.
This true story (inspired by a true story but it's pretty close to the real thing) reminded me of "Pay It Forward" though no one dies. Zach uses a simple analogy to explain to benefactors how one kid can do something to help alleviate homelessness for America's 1 million homeless kids, one that his mom used to get him to clean his room. "You pick one small spot and clean it and it gets done. So I will pick up the dirty clothes and you all pick up the toys and then one day there won't be any homeless kids in America."
The parallel story of Ashley and Mickey demonstrates exactly what Zach is working to change. They are not homeless because they are lazy; the father died, they lost the house, Ashley lost her job without notice.  Since the economic "downturn" in 2008 many families are living out of their cars. Zach, in many ways, is like Mother Teresa who wanted to help the person in front of her.
"Little Red Wagon" inspires and shows what difference a kid can make in the lives of others and that no one is too young to be a philanthropist; doing good for others is for everyone.
You can order the film from Amazon; click here Little Red Wagon