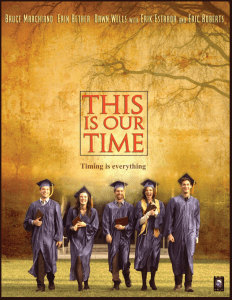 On the day five friends graduate from college their hopes soar as high as their mortarboards.  Ale' (Erin Bethea) and Ethan (Shawn Caulin-Young) are brother and sister and are very close with Catherine (Kate Cobb),  Ryder (Matthew Florida), Luke (T.J. Dalrymple).
Bob (Eric Roberts) is dad to Ale' and Ethan and he runs a grill where the young people hang out to talk about their plans. Catherine gets a job in finance but Ethan has to work at the grill because his plans for grad school have ended up on a waiting list. Ryder lands a job in social media.
Luke and Ale' have been engaged since their junior year and get married a week after graduation. They surprise their friends when they announce that they are going to India to work with a Christian organization that helps people who have leprosy. As they leave Ethan gives his savings for grad school to Ale' for their mission.
Ethan is troubled because his dad is so openly disappointed in him and his inability to get a job with his English degree.  He talks with their friend Professor Callahan (Bruce Marchiano) who advises Ethan that God doesn't call isn't about doing something as much as it is about being the person God wants us to be.
Catherine is soon disillusioned with her job and is challenged when she overhears her boss (Erik Estrada) planning to skirt regulations for profit. But in the midst of everything, something happens to one of the friends that changes them all forever.
"This is Our Time" is a straight-to-DVD movie from Pure Flix, a Christian company co-founded by Randy Travis and his former wife, Liz.  According to the website "Pure Flix is a Christian movie studio that produces, distributes, and acquires Christ
 centered movies for the sole purpose of changing our culture for Christ, one heart at 
a time" and wants to " … challenge you to stand up for Christ and share these heart-felt movies with your
 families, friends, communities and church to impact our world for Christ."
"This is Our Time" stars Erin Bethea from Sherwood Films "Riding Giants" (2004) and "Fireproof" (2008). She is not the most natural of actresses but this is probably her best performance so far. Most of the ensemble cast has considerably more experience and they are able to tell the story competently. This is director Lisa Arnold's second time at the helm of a film. She is part of a cadre of Christians honing their skills at acting, writing, producing, and directing Christian films directed at churches and families. Production values are good though the film is rather slow going.
"This is Our Time" is fine for family viewing (meaning that there is no bad language, sex, violence, alcohol or drugs) but it tells a story built around the promotion of a Christian mission
Embrace a Village
. Product placement so to speak, is very obvious. Founders Joe and Pat Clendenny are written into the film and two of the organizations directors from India, Anil and Rose Kumar, are featured with the children that Ale' and Luke serve.
"This is Our Time" and has some good life lessons to share from the key wisdom figures in the film who counsel the group of friends and who all happen to be men.  Of the films emerging in the Christian genre, however, "This is Our Time" does have positive, strong female characters as well. It would have been nice if the group of friends had been more racially inclusive.
I can see the film working in a young adult retreat or gathering as a way to reflect on vocation. I was glad to see that there was an invitation to become a mature Christian, to listen to God, and not just do missionary work. The film didn't say "discernment" about God's will in your life but I think it was robustly implied.
The great late film critic Roger Ebert (1942 – 2013) once said that we don't go to the movies to go to Sunday school.  "This is Our Time" is Sunday school pure and simple. If you enjoy sermon stories told in very deliberate ways to engage Christians that already believe the way you do, or young adult Christians you are worried about, you will probably like the movie.
If you want to see something akin to art, however, check out the brief informational video on "Embrace a Village" on the DVD. It will inform you about leprosy in India and the efforts of the organization in a creative and moving way. Perhaps the next film will feature Christians working among those suffering from HIV/AIDS or maybe a person from Africa or Asia who comes to make a difference in the United States. It seems like it's always white people going to save others in the movies made in the US.
"This is Our Time" is not a great story and it's not compelling. It's not entertainment but a good sermon and it's just – nice. I don't think these kinds of films will change Hollywood, because Hollywood is about profit and consumerism and this is the country's economic system. Change this and you might have a chance at doing more than setting up a parallel silo industry that mostly speaks to itself.