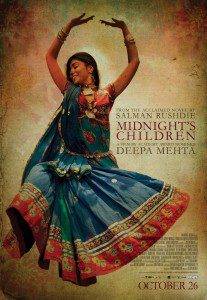 Indian/Canadian director Deepa Mehta's cinematic interpretation of Salmon Rushdie's 1981 Booker Prize-winning novel "Midnight's Children" is a vibrant epic that spans about 30 years and has a cast of thousands.
It tells the story of two baby boys who were born precisely at midnight on Aug. 15, 1947, when India gained independence from Great Britain. The nurse, Mary Pereira (Seema Biswas), a Catholic, switched the boys soon after birth, meaning that the child of the poor father would grow up in a wealthy family and the child of privilege would grow up begging from that family.
One night, a group of children also born at midnight on India's independence day appear to Saleem (Satya Bhabha). These "midnight children" support one another over the years, meeting at that midnight hour. Eventually Mary, who is a nanny is Saleem's home, reveals what she had done. The father, Mr. Sinai (Ronit Roy), is crushed and cruel. Mrs. Sinai sends Saleem to live with her sister in West Pakistan. In due course, Saleem and Shiva (Siddharth) are on opposing sides, the aggressive Shiva always wanting a birthright that is still being born.
"Midnight's Children" is a richly textured story about India's post-colonial era as seen through the lives of two characters who compete in a struggle to some kind of normalcy. The mammoth influence of India's colonial past and how the characters deal with it looking to the future is presented through magical realism. This technique is … click here to continue reading on my blog at the National Catholic Reporter