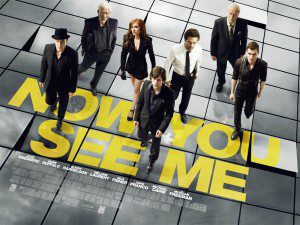 "The first rule of magic is to always be the smartest guy in the room" is a mantra that four talented and ambitious magicians keep repeating in director Louis Leterrier's new film
Now You See Me, cowritten by Ed Solomon, Boaz Yakin, and Edward Ricourt. Michael (Jesse Eisenberg) and Henley (Isla Fisher) used to work together before going their separate ways, but find work entertaining people with their magic. Jack (Dave Franco) and Merritt (Woody Harrelson) take a seedier approach to their profession.
Each of them receives a tarot card inviting them to an apartment in Manhattan. From an unknown person, they receive directions for their next act as a team: the Four Horsemen. Their first act is in Las Vegas, then New Orleans, and with a mega-watt culmination in New York. Now You See Me is an ….
CLICK HERE to continue reading my review at St. Anthony Messenger magazine