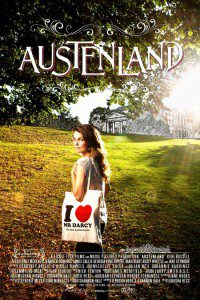 Jane Hayes (Keri Russell) is a complete romantic who is obsessed with Mr. Darcy as portrayed by Colin Firth in the BBC miniseries "Pride and Prejudice". She keeps his life-size cutout image in her front room. She's in her mid-30s and doesn't like any of the men she dates. Her apartment is decorated in Regency style and she drives her married sister crazy with her single-minded search for the perfect man.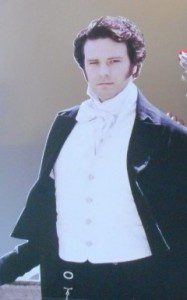 Jane decides to take a fantasy vacation to Austenland in the UK and spends most of her savings. She promises her sister that she will get rid of her décor if she can find the perfect man.
When Jane arrives she meets Mrs. Wattlesbrook (Jane Seymour) who runs the resort. Jane and another guest, Miss Elizabeth Charming (Jennifer Coolidge), are instructed to stay in character, to obey all the rules or be expelled, and then to change into period clothing before they are taken by coach to the manor house of the estate. To her dismay, Jane finds herself in a downstairs room because she bought the economy package.
Jane really gets into the experience but is distracted by the handsome young man who tends to the estate. There are also seemingly available young men who populate the resort, all playing a role. When Jane breaks a rule, things take a turn.
"Austenland" was directed by and co-written by Jerusha Hess (who wrote the cult hit "Napoleon Dynamite"). Shannon Hale, who also co-wrote the script, authored the 2007 novel on which the film is based.  The film was produced by Stephenie Meyer of "Twilight" fame. It premiered at the Sundance Film Festival in January this year.
Keri Russell is very good as Jane and Jennifer Coolidge seemed at first miscast to me because I kept seeing her as Paulette, Elle Woods hairdresser and friend, in "Legally Blonde". But she manages the role quite well. At first Jane Seymour's Mrs. Wattlesbrook seems mean and greedy, but things, as usual, are not what they seem. It's not easy to hire and coordinate all those actors.
I enjoyed "Austenland". It's campy and fun but please don't expect Colin Firth to appear or the story to actually follow one of Jane Austen's novels.  This is a thoroughly contemporary romantic film, a small film really, but it has something to say to young women holding out for a most handsome wealthy young man of good breeding – look for authenticity. There is some innuendo, of course, but the film has a good heart. I think "Austenland" would be excellent for a woman's retreat because despite the aura of faux fluff it's really about growing up, putting childish things aside, learning to see, to really see what or who is around you, and finally, to become a woman.