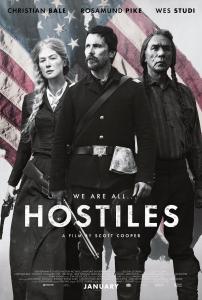 Click here then scroll down to see my review at St. Anthony Messenger.
Christian Bale is, as usual, very good. Wes Studi is always good as is Rosalind Pike. More than a revisionist Western this shows white people having remorse and angst (that's the revisionist part) for the violent white westward expansion that decimated the Indian peoples – but Indians still do not have much of a voice here. At first I was surprised that Wes Studi took this role as the dying Chief Yellow Hawk because I once recall him saying at the press day for the film"Pocahontas" that he only took roles that showed Native Americans in an authentic way. I guess it's true – he and his family are mostly silent in this film.
The romanticized ending didn't help either. Too neat.
It's supposed to be a profound film and maybe it has it's moments, but in general, I don't think it's all that great.
We cannot wish away the past; we can only change the future for the good of all. This is what it may be trying to say.