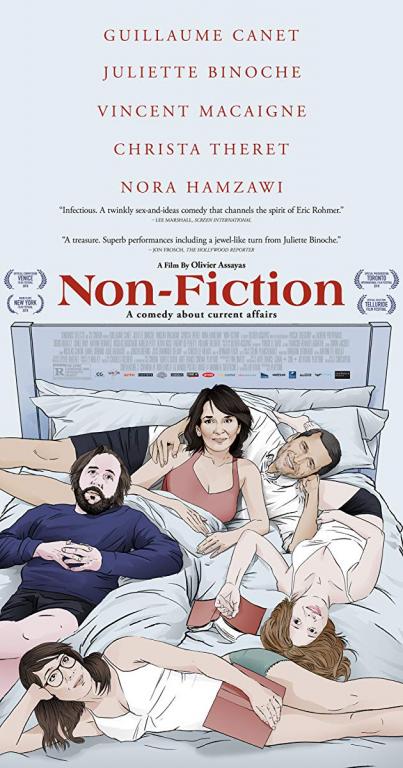 I would like to introduce you to a film by the writer-director Richard Linklater of France: Oliver Assayas. This is so at least in his new film "Non-Fiction." Why, you ask? Because he, the screenwriter, just cannot stop talking. After the first ten minutes of the film I thought I was listening to Ethan Hawke and Julie Delpy talking and talking as they do in Linklater's "Before" trilogy, hoping they would actually do something other than pose and re-pose at another location to continue talking. (Assayas made one of my favorite French films ever, Paris je t'aime; 2006.)
The relatively few characters in the ensemble cast of "Non-Fiction" cannot stop saying everything that comes into their heads about the continually morphing world of modern publishing, print or digital (and throw in podcasting and audible books, too) while they are busily having affairs with each other as they seek to be relevant and employed. Alas. They are too late. They are living the culture clash between the old world of books and the new digital world of communicating everything. The characters are mildly concerned but their lifestyle is comfortable enough for them not make any serious changes. They have talked themselves into a cinematic circular maze from which they will not emerge in time for anything remotely meaningful. Other than to grouse about the limbo between the print and wireless universes in which they find themselves. They are living double lives, indeed.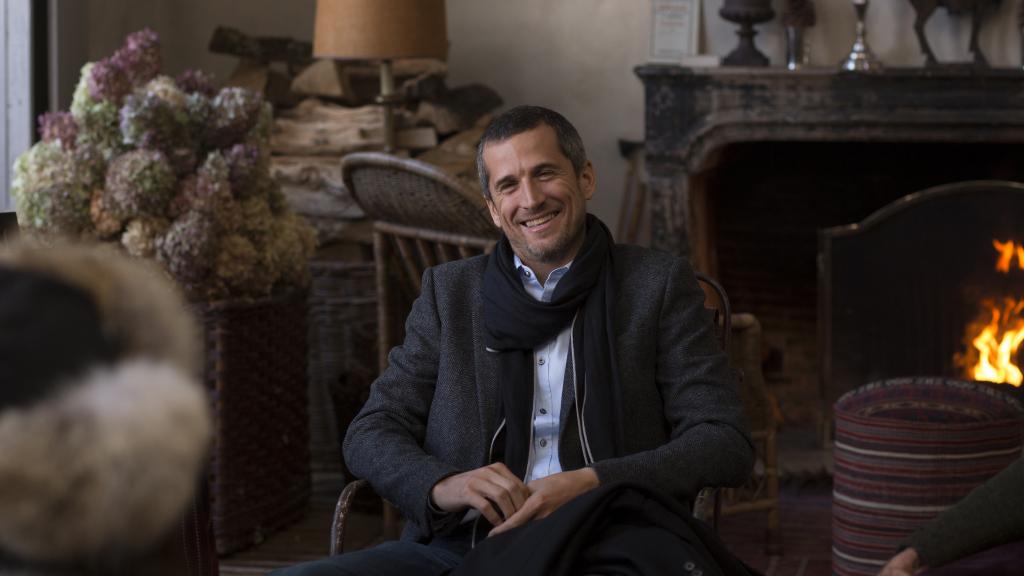 The film opens with the suave publisher Alain Danielson (Guillaume Canet) taking one of his authors, the scruffy Leonard (Vincent Macaigne), out to lunch (literally and figuratively.) Leonard writes "auto-fiction," that is, stories based on thinly veiled characters from real life that his associates or readers clamor to figure out. Leonard knows on some level that his future with Alain's company is over and so it happens. His partner Valerie (Nora Hamzawi), who works with a politician (and probably sleeps with him,) isn't sympathetic when Leonard tells her he has lost his publisher. Alain's wife, Serena (Juliette Binoche), is an actress who is tired of playing the role of a crime scene analysist (not a detective!) in the show "Collusion." Maybe it's because she's colluding with Leonard and has been for a long time. Alain is no slouch. He's having it on with the new – and very young – director of digital marketing he just hired, Laure (Christa Theret.) She tells Alain she is there "to shake things up" at the company. Well, yes and no.
"Non-Fiction" is a comedic look at a segment of French society kind of finding its way in a digital world. The players face issues that anyone involved in publishing will recognize. But they seem well-preserved in their status-quo world of print and television, going nowhere fast.
When some of the characters gather at a vacation house by the shore they talk about the new rage: audio books. But who should record a new book? The actress Juliette Binoche, of course! Serena (Binoche) looks on with a smile. There is no irony here, just banality and indulgence in a bit of conceit.
The performances are all good, especially Macaigne. But the script tried too hard to be clever and it was impossible to sympathize with any of the characters who wear their superficiality well. If only they would stop talking long enough to break out of their hermetically sealed verbal-sphere to embrace the bigger and newer world beyond, leaving the dross of the old behind. I think the film lacked depth and generosity. Maybe this is the whole point. There has to be more to life than this.
Still, this commentary on contemporary Parisian society is an interesting – and exhausting – film. I didn't not like it. I'm chuckling as I finish writing this review.
In French with English subtitles.