I cannot sit idly by in Atlanta and not be concerned about what happens in Birmingham. Injustice anywhere is a threat to justice everywhere. We are caught in an inescapable network of mutuality, tied in a single garment of destiny. Whatever affects one directly, affects all indirectly. …
A while back I mentioned, off-handedly, that I'd second the motion to include Martin Luther King Jr.'s "Letter From a Birmingham Jail" in the Christian canon.
It's a prison epistle from an apostle of Jesus Christ. The New Testament is where we usually keep those. It would fit right in.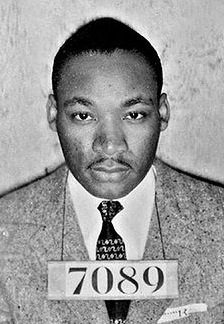 Since this was mostly a joking proposal, I hadn't given any thought to the logistics of such an addition to the canon. I suppose I'd just assumed that King's letter could be appended as a 28th book.
But now a friend has decided that won't do. He realizes, I think, that many people will find my suggestion not thought-provoking as much as just provoking. And he enjoys watching me get myself in trouble.
So he asks what I would choose to cut from the New Testament to "make room" for this addition, figuring this would be a good way to get me into even more hot water with anyone upset by the original suggestion. To them, it's bad enough to joke about adding to the canon, but even worse to joke about cutting something out of the …
Jude.
I'd swap Jude for Letter From a Birmingham Jail.
Consider this: King's epistle draws from the scriptures of the biblical canon. Jude draws from the book of Enoch.
And what, you're really going to fight over Jude? Be honest — when was the last time you read Jude other than as an item to check off on your way to reading through all 66 books? When was the last time you heard a sermon on Jude? Or highlighted a passage in Jude? Or said, "You know, that reminds me of that beloved verse from Jude?"*
It's probably been a while. Or never. Swap out Jude and barely anybody will notice, let alone miss it.
Again, I'm kidding.
But it seems that even just joking about such a thing gets some folks riled up. They'll start quoting Revelation 22:19:
If anyone takes away from the words of the book of this prophecy, God will take away that person's share in the tree of life and in the holy city, which are described in this book.
And they'll cite 2 Timothy 3:16**:
All scripture is inspired by God and is useful for teaching, for reproof, for correction, and for training in righteousness.
And it won't do any good to point out that John of Patmos wasn't in any way saying anything about the book of Jude, or that he would have wanted or allowed his readers to say was about the book of Jude. And the same was true for whoever wrote 2 Timothy.
And now, of course, they're even more upset because I just wrote "whoever wrote 2 Timothy," so let's retract that and pretend that I went along with the convention of pretending it was Paul.
But that passage from "Paul" actually provides a good summary of a more serious case or a more serious argument for treating Letter From a Birmingham Jail as something like scripture. I would say King's epistle was inspired by God.*** And it is "useful for teaching, for reproof, for correction, and for training in righteousness."
It doesn't logically follow that it must therefore be scripture — "Paul" says "All scripture is X," not "all that is X is scripture" — but it does show how much in common it has with scripture.
And maybe, just maybe, by taking the bait from my friend here I've prompted somebody to go back and re-read Letter From a Birmingham Jail, and that's always a good thing.
– – – – – – – – – – – –
* Actually, the doxology at the end of Jude is lovely and probably familiar:
Now to him who is able to keep you from falling, and to make you stand without blemish in the presence of his glory with rejoicing, to the only God our Savior, through Jesus Christ our Lord, be glory, majesty, power, and authority, before all time and now and for ever. Amen.
And even the weird bits include some terrific imagery:
They are waterless clouds carried along by the winds; autumn trees without fruit, twice dead, uprooted; wild waves of the sea, casting up the foam of their own shame; wandering stars, for whom the deepest darkness has been reserved for ever.
** I would give big-time bonus points to anyone upset at my joking about Jude who responded by quoting Jude 8-10. That bit condemns people who "slander whatever they do not understand," which would be a terrific rebuke if it weren't built upon Jude's peculiar lesson about Michael refusing to slander the devil while the two were fighting over Moses' body. I won't seriously slander the book of Jude, but it certainly falls in the category of things I "do not understand."
*** I believe King's letter was inspired by God, but it was assigned by Harvey Shapiro of The New York Times. Shapiro's bosses at the paper later opted not to publish the piece:
King … was anxious to reply to "An Appeal For Law and Order and Common Sense," a muddle-headed brief for compromise published in the Birmingham News a few days before [his arrest] by eight white Alabama clergymen. King scribbled a response in the margins of the newspaper, on toilet paper, and and on other scraps that his lawyers sneaked out to the SCLC's executive director, Wyatt Walker, who got it transcribed. Walker passed drafts back and forth through the lawyers until King was satisfied.

Up north at the Times Magazine, Shapiro was eager to publish, but (according to [Diane] McWhorter) he "could not get the letter past his bosses at the Times."