I am looking forward to this:
42, the new Jackie Robinson biopic coming in the spring, won't likely tell us a story we don't already know, but that's fine — we love this story. I don't need to see the story reinvented, just re-presented and retold with love and respect. Imagine Peter Jackson spent 10 years building replicas of Ebbets Field and Shibe Park and Blues Stadium in New Zealand — that's the sort of thing I'm looking for.
As we discussed yesterday regarding Martin Luther King Jr., there's always a temptation to co-opt such stories to make them stories about us instead. James W. McCarty wrote of our tendency to shape King in our own image, and Hollywood notoriously loves to do the same thing with people like Jackie Robinson. So I'm worried that this movie may be a self-congratulatory saga for white people, celebrating how America got rid of racism in 1947 and hasn't seen it since.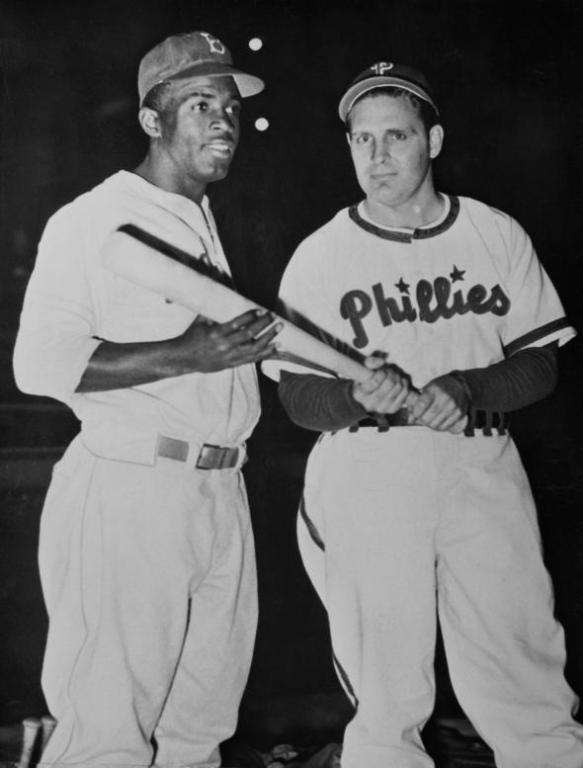 I'm also worried that 42 may wind up as more of a Branch Rickey biopic. Don't get me wrong, Rickey deserves our praise, but Rickey's role in this story was that of a man who had the courage to sign a player with 10 times more courage than he would ever need himself. Branch Rickey is a terrific role for Harrison Ford, just as Pee Wee Reese is a terrific role for Lucas Black, Dixie Walker is a terrific role for Ryan Merriman, and Leo the Lip is a terrific role for Chris Meloni — but they're supporting players in this story. It's not their story, but Robinson's. (I haven't seen Chadwick Boseman in anything, but he looks great in the trailer.)
Firefly fans please note that Alan Tudyk also has a terrific part in this film — at least in the sense that villains are always fun parts to play. Tudyk will be playing Philadelphia Phillies manager Ben Chapman — a far cry from the loveable space pilot Wash Washburne. As Philly sportsblogger Justin Klugh explains, Chapman "was a horrible bigot with a tiny, tiny brain."
Klugh notes that the initial joy of "seeing a great actor from a cool show appear in a historical baseball movie as a Phillie" is overruled by the fact that Tudyk "will be portraying one of the sh–tier fiends in the sport's history." Robinson himself said that Phillies fans and Phillies players were among the worst for the vitriolic racism they poured forth at him as a player, and it seems that Tudyk's character will represent that in the film.
This is why villain roles are so important. Tudyk has a trickier role than Ford does. It would be easy — and empty — to portray Chapman as a cartoon villain, a scapegoat for American racism. Then us white folks in the audience could watch the movie and reassure ourselves that we would never be like that. If this were 1947 we would all, of course, be Branch Rickey or Pee Wee Reese and, of course, none of us would be like that awful Ben Chapman. And thus, we could tell ourselves, that in 2013 we must be more like Rickey than like Chapman. If we hate the movie's Bad Guy, then we must be the Good Guys — now and forevermore, never needing to change or to grow or to be challenged.
I'm hoping that director Brian Helgeland's script and Tudyk's performance can escape that trap.
– – – – – – – – – – – –
My family has our own Jackie Robinson story. This one happened after the Dodgers star had retired from baseball.
My dad was running for county office as a Republican, and so he was scheduled to introduce one of the speakers at a 1960 campaign rally in Plainfield, N.J.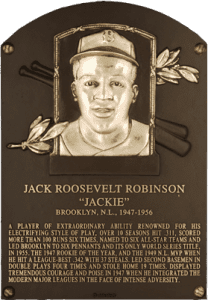 The headliner at the rally was the vice president, Richard Nixon, the party's candidate for President of the United States. Dad wasn't asked to introduce the vice president, he got to do something far cooler. He introduced the speaker who would introduce Nixon: Jackie Robinson.
My dad lost his election in November and that ended his brief political career, but for Dad that 1960 election was still a triumph because Dad, a lifelong Brooklyn Dodgers fan as well as a lifelong Republican, got to introduce Jackie Robinson. And it doesn't get any better than that.
A lot of people now would be surprised to learn that Jackie Robinson was an avid Republican, someone who the GOP could call on to fire up a crowd in support of Richard Nixon. But that was 1960, before the great reversal in which the Democratic Party purged itself of the Dixiecrats and the Republican Party embraced them with open arms. This was before King's March on Washington, before Bloody Sunday, before Lyndon Johnson signed the Voting Rights Act, and before Nixon returned to the campaign trail with the Southern Strategy that would cement the switch.
Between 1960 and 1968, things changed. And so did Jackie Robinson, as Michael G. Long explained last year on HuffPo:
Although he had found Nixon to be racially progressive in the late 1950s and even campaigned for him in 1960, by 1968 Robinson was labeling the Republican ticket as "racist." He was especially angered by Nixon's open courtship of Senator Strom Thurmond and other Southern segregationists during the presidential campaign. "Now he's sold out," he stated about Nixon. "He's prostituted himself to get the Southern vote."
Robinson saw his former party, and his country, changing, and he didn't like what he saw. In 1969, Robinson told The New York Times, "I wouldn't fly the flag on the Fourth of July or any other day. … When I see a car with a flag pasted on it, I figure the guy behind the wheel isn't my friend."
Nixon responded by asking J. Edgar Hoover to compile an FBI file on the hall-of-famer.
And yet, as Long writes:
Robinson's faith kept him hopeful, and shortly before his death [in October, 1972] he penned his last known letter to Nixon. The issue at hand was Nixon's opposition to busing, and Robinson thundered forth like a prophet. "Mr. President," he wrote, "…[b]ecause I want so much to be a part of and to love this nation as I once did, I hope you will take another look at where we are going and be the president who leads the nation to accept difficult but necessary action, rather than the one who fosters division."

Nixon did not reply, and Robinson died of complications from diabetes seven months later.