• "One man's fight against foreclosures in Carpentersville"
Tom Roeser is on a one-man mission to save Carpentersville, Ill., from falling into the fate of so many post-industrial Midwestern towns, where neighborhoods have become littered with vacant, foreclosed homes.

Over the past several years, the 60-year-old president and co-owner of the town's largest employer, a maker of switches and communications gear called Otto Engineering, has bought 193 foreclosed homes, completely rehabilitated them and is either selling or renting them at a discount to local residents.
• Harris County, Texas, realizes it's better — smarter, cheaper, more just and more humane — to help the mentally ill get treatment than to put them in jail.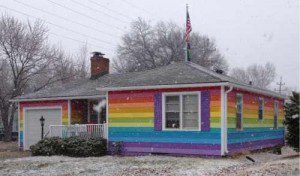 • "Feds Shut Down Telemarketing Scam Aimed at Elderly"
• Occupy Wall Street's Rolling Jubilee has now raised "enough money to abolish $11,226,570 of personal debt."
• "UAE Launches 100 Megawatt Solar Energy Plant, Largest in Mideast"
• "Wind power is poised to kick nuclear's ass"
• The Overdraft Protection Act has 42 cosponsors in the House of Representatives. Rep. Carolyn Maloney's bill would prevent overdraft "protection" fees from snowballing in a cascade of legalized theft that currently transfers more than $30 billion each year from workers to banks. This is money — the equivalent to the annual income of more than half a million American households — simply taken from people's bank accounts and kept by banks. Banks, of course, would like to continue taking this money from people. And Congress, of course, would like to continue allowing banks to do so — which is why Govtrack only gives this bill a 1-percent chance of being enacted. But still, it's a start.
• Murmurings of conservative support for fully funding public defenders.
• Rabbi Jason Klein has been elected to lead the Reconstructionist Rabbinical Association. He becomes the first openly gay man to lead a national rabbinic association in the U.S.
• Maryland has repealed the death penalty, becoming the sixth state to do so in the last six years.
• Southern Baptists in Texas and Mississippi are beginning to act against predatory lending.
• Students at Wilcox County High School in Rochelle, Georgia, are pushing for an integrated prom.
Since this is 2013, I suppose I should explain that "integrated" here doesn't refer to some high-tech initiative to integrate social media into the students' prom experience or to some new "wholistic" approach to decorating the school gym for a big spring dance. "Integrated" there means the same thing it meant back in the mid 20th Century — racially integrated, as opposed to racially segregated.
And even though it is 2013, Wilcox County High School has never had a racially integrated prom. The Constitution may have forced Rochelle, Georgia, to integrate its public schools, but the good white Christian people of Georgia still cling vehemently to their right to bar non-white students from attending prom (and homecoming) — a tradition of racial discrimination enforced by the local police.
But as effed-up as the alleged adults apparently are in Rochelle, the kids are alright. This year, for the first time, they opted to elect only one "homecoming court" — with a white student chosen as "king" and a black student chosen as "queen." And the kids, correctly, think it's pretty dumb that the adults won't allow the homecoming king and queen to attend the same dance:
So the girls are taking matters into their own hands.

"If we don't change it nobody else will," said Keela.

They're part of a group of students organizing a prom for everyone to attend, called the "Integrated Prom."