Bob Smietana's* exposé of a spiritually, financially, physically and sexually abusive "prosperity gospel" cult in Nashville — "'I Am Called a Cult Leader. I Really Don't Care'" — is a fascinating, devastating and disturbing read.
This is the story of Wayne "Pops" Jolley, an itinerant "evangelist" with a horrific history of alleged violence and sexual abuse, and a knack for convincing people to give him money. He seems utterly loathsome. Every "spiritual" insight attributed to him is either vapid or absurd (or both). His teaching seems transparently self-serving. His personality seems repugnant. And his theology is an unoriginally ugly mix of greed (give me money and God will give you money) and that Jezebel-demon nuttery popularized by the gonzo theocrats at Charisma.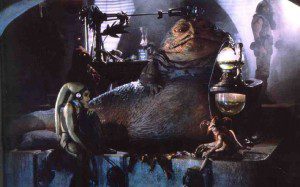 Smietana does his best to discover and describe what it is that so many followers find appealing in this greedy gasbag's authoritarian religion. But those who still admire (and, apparently, venerate) the man refused to comment for the article. The many disillusioned ex-followers interviewed seem at a loss to explain their prior enchantment. About all they're able to say is that Jolley seems to have a knack for reaching out to people when they're at their most vulnerable, seeming at first to offer counsel, comfort and financial assistance before roping people in and coercing them into serving him (and, always, into writing him very large checks).
While the odious Mr. Jolley is a minor figure on the fringes of white evangelicalism, his story does have larger implications for the rest of this tradition in what it suggests about the dangers of unacountable nondenominational churches governed only by the "highest authority" of the Bible — as interpreted by the unaccountable leaders of those unaccountable churches. This is what sola scriptura read o sole mio produces: Spiritual fiefdoms led by greedy bastards affixed to oversized recliners in the basements of their tax-free mansions.
But there's also another more specific reason this story is relevant for the larger white evangelical community. It turns out that one of Jolley's biggest supporters — and funders — is a guy named Ed Cash. Never heard of him? That's understandable — he's not famous. But his songs are famous. Or, at least, his songs are famous — and inescapable — if you go to, as Ruth Graham puts it, "the kind of church that relies on 'worship leaders' rather than organists for Sunday-morning music."
Cash is like a one-man Brill Building of worship songs, churning out big hits for worship-music mega-star (yes, there is such a thing) Chris Tomlin. As Graham summarizes in her Atlantic follow-up to Smietana's piece:
Tomlin, who sings [Cash's] "How Great Is Our God,"** is a giant in the genre. His album of Christmas worship songs currently sits atop Billboard's list of top Christian albums; Cash has a co-writer credit on five of the album's 11 songs. A few years ago CNN declared Tomlin "the most-sung artist on the planet," noting that in 2012, Katy Perry songs had been played 1.4 million times on the radio, while Tomlin's songs were played more than 3 million times in churches.
And Cash gives Jolley 10 percent of every penny he earns. Lately, he's increased that financial support for Jolley by giving the (allegedly) child-molesting spiritual dictator a shared writing credit on his songs.
And now, thanks to Smietana's investigative work, those millions of churches paying royalties for Cash's popular songs, are realizing that they've also been financially supporting this hideous exploiter of the vulnerable. This isn't just a My Favorite Artist Is Problematic kind of problem — this raises an issue of direct financial culpability.
It's like this —
— only even worse.
So all those churches now have a decision to make. (I can relate — Chinatown is now streaming on Netflix.)
Graham highlights one other dazzling detail from Smietana's piece. He wrote:
Cash, and his brother Scott, both agreed to be interviewed by Christianity Today, then canceled their interview. Cash later wrote and recorded a song to CT, explaining why he backed out.
CT didn't publish the lyrics to that song, but Smietana shared them with Graham and she did. They are amazing. Go read them.
Graham summarizes the song this way:
If it weren't written for the express purpose of avoiding tough questions about a spiritual charlatan, it would fit right in at a contemporary church service. In its own disturbing way, it's a masterpiece.
The intended purposed of "avoiding tough questions about a spiritual charlatan" is, of course, precisely why the song would fit right in at so many contemporary church services. It's tone of flamboyantly performative piety is exactly the same thing that has made Cash so successful as a "worship" songwriter all these years.
– – – – – – – – – – – –
* Smietana, long-time religion reporter for The Tennessean, now writes for a variety of Christian and religious outlets, including Christianity Today — a publication that believes gay and lesbian couples are "destructive to society."
** I wasn't familiar with that song, but the title is skin-crawlingly triumphalistic. I've read the lyrics and it strikes me — as with the earlier worship-music mega-hit "Our God Reigns" — to be a song that pretends to praise God while mainly praising ourselves. It's not a hymn so much as a tribal anthem. (Having read Smietana's piece first, though, I'll admit I'm not in a position to seek a more hospitably generous evaluation of this song.) Maybe a song simply titled "How Great Is God" would've been just as popular with this worship-music crowd as "How Great Is Our God." But I doubt it.