I was going to let this pass, since this is about as benign as American Spectator articles get, by something in Larry Thornberry's mostly harmless appreciation of Bull Durham as "The Best Baseball Movie Ever" jumped out at me as impossibly wrong — and impossibly wrong in a very timely manner, given the punditocracy's recent outbreak of fretting over the ignoble American tradition of "civility."
The passage in question is this: "No specific time is given for the action of the movie, but there are clues that it is probably in the sixties."
Well, no. Bull Durham — which is every bit as entertaining as Thornberry says — came out in 1988 and it is very clearly set right then in the late '80s. Tim Robbins' Nuke Laloosh is a Motley Crue fan. He dresses like Sonny Crockett from Miami Vice in a visual gag meant to show us that he's trying to be trendy but misses the mark by a few years. And there are plenty of other cues locating the film in the present-day of 30 years ago. "It feels radical in kind of a tubular sort of way," or "You don't need a quadrophonic Blaupunkt! What you need is a curveball!"
But the more significant reason it's impossible for Bull Durham to be set in the 1960s is something Thornberry himself mentions in the very next sentence: "No specific time is given for the action of the movie, but there are clues that it is probably in the sixties. We see the long, boring bus rides."
Yes, the whole team boards the bus for long, boring, uneventful rides throughout North Carolina. That wasn't possible — wasn't even legal — in the 1960s. Not for a baseball team that included black and Hispanic ballplayers. Here's the picture the Spectator uses in its article: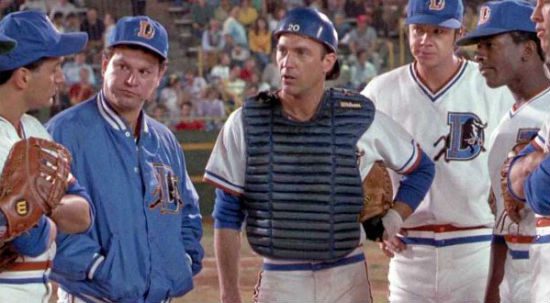 This team wouldn't have been allowed to travel together in the early 1960s. In much of North Carolina, they wouldn't have been allowed to stay at the same hotels or dine at the same restaurants well into the 1970s.
The Brooklyn Dodgers changed in 1947, but the rest of baseball — and the rest of America — didn't magically or instantly change with them. Spring training was still segregated for decades. As of 1961, the Dodgers were still the only team with black and white players staying and eating together in Florida. If Jackie Robinson broke baseball's color line, America's color line endured, and that affected players who didn't begin their careers until long after Jackie retired. (See earlier: "Spring training in black and white.")
The
Spectator's
memory of all of this is whitewashed to the extent that they casually imagine North Carolina as a happy and hospitable place for black and Hispanic players in the 1960s. They don't and can't remember what it was really like because they don't have to and because they don't want to.
This was law and custom and religion here in the United States of America. It was a fundamental building block of our civil society and of our ideas of "civility" and custom and manners. Just look at the language of that revealed in sportswriter Will Grimsley's 1961 "reporter's survey" of Major League spring training arrangements:
Yankees:  "Have trained at St. Petersburg for years.  The Soreno, a resort hotel, has politely said 'no' to Yankee owner Dan Topping's request that all players…be housed 'under one roof." …

Athletics:  General Manager Frank Lane told Grimsley "We are not spearheading any political movements," when asked why Bob Boyd, the only African-American with the club would not be staying with the rest of the team at the George Washington Hotel in West Palm Beach, FL. …

Reds:  "Eight Negros on roster to be housed and fed in private homes, not at team headquarters at Floridian Hotel, Tampa.  Both club and hotel said they never had difficulty and not rocking the boat."

Pirates:  "Headquarters at Bradford Hotel, Fort Myers, FL.  'We don't anticipate any trouble,' said the hotel's resident manager, Howard Green.  'The colored players will get excellent accommodations in private homes."
It was all very polite, you see. The Soreno hotel politely refused to allow Elston Howard to stay there. The Floridian Hotel in Tampa barred its doors to Frank Robinson but perceived this, as all polite people did, as avoiding "difficulty" rather than causing it. The Reds politely went along because they didn't want to be "political" either. The Bradford Hotel did not wish to cause any "trouble," so they politely and untroublingly refused a room to Roberto Clemente. The manager of the George Washington Hotel in West Palm Beach refused to allow black major leaguers to stay at his hotel, but this was simply good manners and "not … political." Equality under the law would be political. Inequality was merely polite.
The linguistic and cognitive acrobatics involved in all of this are incredible (in every sense of that word). The very people enforcing the pervasive politicization of every aspect of life for non-white people were simultaneously insisting that they were avoiding politics. This tortured pretzel of a lie was what "polite" meant. It was what "civil" meant.
And it still is.