"Perversion of Justice" is an impressive piece of journalism. That's the name the Miami Herald gave to its multi-part investigative series last fall exposing and challenging the horrifying crimes of billionaire hedge-fund manager Jeffrey Epstein and the ludicrously lenient, actually illegal plea arrangement he was secretly granted by then-US Attorney, now-Trump cabinet member Alex Acosta. Reporting by Julie K. Brown and the rest of the Herald's team have dragged this injustice out into the sun, and they've doggedly kept after it — forcing prosecutors to re-examine and possibly to re-open the case.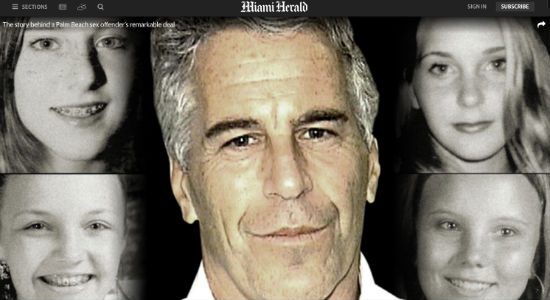 Vox summarizes the situation well in this piece: "Jeffrey Epstein, the convicted sex offender who is friends with Donald Trump and Bill Clinton, explained."
Jeffrey Epstein could have gone to prison for life.

The money manager was accused of sexually abusing dozens of underage girls at his Palm Beach mansion between 2001 and 2006. But as Julie K. Brown reports at the Miami Herald, he ultimately got just 13 months in a county jail, thanks to a deal signed by Alexander Acosta, then the US Attorney for Miami and now President Trump's secretary of labor. On Thursday, a federal judge ruled that Acosta's team broke the law by concealing the agreement from more than 30 girls who said Epstein abused them, Brown reports. …

When authorities began investigating Epstein, he assembled a team of private investigators to dig up dirt on the girls who accused him and the police and prosecutors working the case. Then he and his team of powerful lawyers — including Alan Dershowitz and Kenneth Starr — were able to convince prosecutors to go easy on him despite disturbing allegations by a growing number of women and girls. …

Epstein was proud of his "collection" of famous friends, which included Bill Clinton and Donald Trump, and there's long been speculation that some of these friends may have participated in his abuses. But because he has been able to avoid harsh punishment and minimize publicity around the details of his case, he's also been able to keep details about anyone else who may have been involved out of the public eye.

… His friendships with famous people have led to speculation that they, too — most notably Clinton and Trump — might have participated in his abuse of girls. But because Epstein was able to keep all the details of his prosecution quiet, it's impossible for the public to know exactly who else was involved in his crimes. By protecting himself, Epstein may have been able to protect his famous friends as well.
That last bit — feeding bipartisan speculation about the potential cover-up of crimes by prominent powerful men from both parties — is part of why this story is getting attention. But the main reason is right there in the Herald's headline: It's a perversion of justice — and such a perversion of justice is infuriating.
The dozens of teenage girls (that we know of) who were treated unjustly by Jeffrey Epstein were then denied legal justice by Acosta, Dershowitz, Starr, et. al. Their voices were silenced by the very legal system that was supposed to be acting on their behalf. And while they all continue to carry the burden of what was done to them as children, Epstein today is a free man — free to return to his billions of dollars and to the private island he owns off of St. Thomas, where he's free to conduct his business free of the taxes his victims will pay for the rest of their lives.
Everything about that makes us angry. It should. It's not fair. It's not right. When we read the first line of that
Vox
explainer — "Jeffrey Epstein could have gone to prison for life" — we don't just think "could," we think "should." Jeffrey Epstein
ought
to have gone to prison for life. The massive consequences of his crimes for his victims are vastly out of balance with the minor consequences for him:
Courtney Wild was a 14-year-old middle school student and cheerleading captain when she met Epstein, Brown writes. She later became addicted to drugs and served three years in prison on drug charges.

One woman who said Epstein molested her was found dead of a heroin overdose last year, leaving behind a young son.

The FBI had prepared a 53-page sex crimes indictment for Epstein in 2007 that could have sent him to prison for life, according to the Herald. Instead, he cut a deal with Alexander Acosta, then the US attorney in Miami, which allowed him to serve just 13 months — not in federal or state prison, but in a private wing of a Palm Beach county jail.

He was granted work release to go to a "comfortable office" for 12 hours a day, six days a week, despite the fact that the Palm Beach Sheriff's Department prohibited work release for sex offenders.

Epstein's deal, called a "non-prosecution agreement," granted immunity to "any potential co-conspirators," meaning that if any of Epstein's powerful friends were involved in his crimes, they would face no consequences. And Acosta agreed that the deal would be kept secret from the victims, preventing them from showing up in court to try to challenge it.
White-hot rage seems the only appropriate, rational, humane response to this perversion of justice. Jeffrey Epstein belongs in prison — prison prison, not a half-day cot in a private wing of the county jail. Any of his "powerful friends" who participated in or abetted his abuse ought to be exposed and charged as well. And the lawyers involved in orchestrating this sweetheart perversion of justice ought to face professional sanctions or, at the very least, public shaming proportional to their disgrace.
Granted, no punishment for Epstein or any of his possible accomplices would directly heal the harm that they did to his many victims. But minimizing his punishment to a short and cushy sentence minimizes the harm he has done to them, trivializing their suffering and thereby compounding it. They deserved to see Epstein put away for life.
And, more than that, they deserved restitution — the opportunity for healing and rehabilitation that even a tiny fraction of Epstein's billions could have afforded them.
If this story doesn't make you angry then I don't quite understand you and I'm sure you don't quite understand me.
Hold onto that anger for a bit, and hold onto that thought. Because I want to return to that as a way of discussing something else — a different "perversion of justice" that's not quite directly related. I'm going to save that for a separate post, though, because I do not want, even a little bit, to give any impression of treating Epstein's victims as a prop for that discussion.
Here I'll simply state that Jeffrey Epstein deserved worse than he got and his victims deserved far better. It is still possible to do right by those victims. We should demand nothing less.