(Originally posted July 13, 2016.)
In the previous post, we noted that in their role as "first responders" to emergencies unrelated to law enforcement, the guns that police officers carry are neither necessary nor helpful. The presence of those guns — the introduction of those guns — increases the danger present, rather than reducing or helping to resolve it safely.
When people with guns are summoned in an emergency, they sometimes respond as people with guns — whether or not guns are capable of addressing the emergency in question. This makes things worse.
This is particularly — and often tragically — the case when police are called on to be the "first responders" in an emergency involving someone suffering from mental illness, emotional distress, or psychosis. Too often, those stories end like this awful encounter a few months ago, "Parents called 911 to help suicidal daughter — and 'police ended up putting a bullet in her.'"
Melissa Boarts is one of at least 262 people who have been fatally shot by police so far in 2016 [as of April 6], according to a Washington Post database. At least 41 of those killed by police were carrying a knife or other blade, and about a quarter of all police shooting victims were mentally ill or experiencing an emotional crisis.

People with untreated mental illness are 16 times as likely to be killed during a police encounter as other civilians approached or stopped by law enforcement, according to a study from the Treatment Advocacy Center.

… Since January 2015, the Post has tracked more than 1,100 fatal shootings by on-duty police officers, with one in four involving someone who was either in the midst of a mental health crisis or was explicitly suicidal. A Post analysis has found that in half of those cases, the officers involved were not properly trained to deal with the mentally ill — and in many cases, officers responded with tactics that quickly made a volatile situation even more dangerous.
When people are suicidal, we send "first responders" with guns. When a mental health crisis or emotional crisis becomes an emergency, our standard operating procedure is to add guns to the equation. This is a terrible idea with all too predictable results.
Stories like the one above are frighteningly common (warning: autoplay video at link), and law enforcement officials themselves are among the loudest of those calling for a change in this "first response" approach:
"If you talk to most police officers, the most volatile situations are the ones with mental illness," said Tom Dart, sheriff of Cook County, Ill., who has worked to raise awareness about the large number of people with mental illness in jails and prisons and to improve their treatment. …

… Some police departments have formed crisis intervention teams, whose members have special training in dealing with people with mental illness. Training focuses on ways to calm people in the midst of a breakdown, rather than using force.

In Miami-Dade County, about 4,600 officers have been trained in crisis intervention, said Steven Leifman, an associate administrative judge in Florida's Miami-Dade County Court. Before the program began, police were involved in the shooting of someone with mental illness about once a month. In the five years since the training began, there have been only four or five such shootings, he said.
Once a month. In a single county.
No one has ever called the police saying, "My relative is having a mental health crisis, I want you to come here and shoot them dead." Anyone making such a call might themselves be arrested. Police would likely respond to such a request by — correctly — insisting that it's not their job to come to your home to shoot and kill your relative who's having a mental health crisis. And yet many people have made the opposite of that phone call, telling police "My relative is having a mental health crisis, but I don't want you to come here and shoot them dead" — only to have that happen anyway, despite their pleas.
That can leave families of people with serious mental illness with nowhere to turn.

"I am terrified to call the police when it involves my son," said Candie Dalton, of Englewood, Colo., whose 20-year-old son has schizophrenia.

Dalton said her son's interactions with police have left him terrified of law enforcement. Once, he was the victim of a home invasion robbery. When he was unable to articulate what had happened, police accused him of selling his possessions for drug money. Officers then arrested him because of an unpaid speeding ticket.

On another occasion, Dalton called police because her son threatened her with a kitchen knife. Police responded with overwhelming force.

"There were multiple cops aiming their guns at my son until he got on the ground," Dalton said. "One of the officers later told me that my son was close to having a hole in him so big they could drive a Mack truck through it."
According to that article, the crisis intervention training in Miami-Dade is working, but such efforts and results are the exception, not the rule. Barring such training, when police are summoned to deal with a mental health crisis, they are summoned as first responders with guns. They are the people with guns who arrive as people with guns. And, unsurprisingly, those guns often get used.
"The traditional police response to people with mental illness has often been ineffective," a Department of Justice guide says, "and sometimes tragic."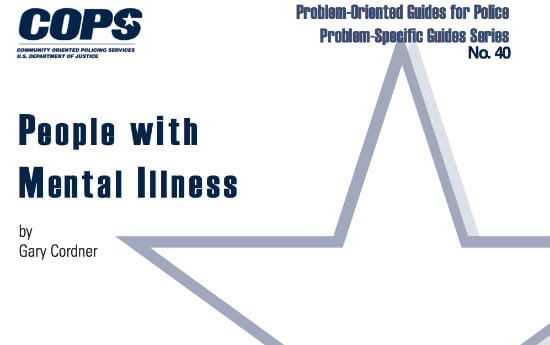 Intensive training for police may help them to better serve as first responders in emergencies arising from mental health or emotional crises. If we're going to continue to rely on police as the first responders in such situations, then we need to establish — and fund — far better and more comprehensive training for that response.
And part of that training, I'd argue, should be to leave the damn gun in the car.
The larger problem with police responses to crises of mental health or emotional distress is that it shouldn't be their job. We're asking police to do something that doesn't have anything to do with their role as law enforcement professionals.
This is one of many, many ways in which we're asking the police to be something other than, and far more than, police.
This is a major theme in that USAToday article linked above:
Many law enforcement groups are concerned about the demands placed upon them.

"Police are being forced to be mental health counselors without training," said Jim Pasco, executive director of the national Fraternal Order of Police, the largest police organization in the country. "It underscores a real tragedy: the total collapse of the mental health system in the United States. People who should be wards of the hospital are wards of the street."
When one system collapses, another system is forced to bear the weight — putting an undue burden and undue strain on that other system.
What we're talking about here, then, is a failure of subsidiarity.