• Because of their alliterative names and their shared commitment to segregationist ideology, I sometimes get Paige Patterson and Paul Pressler mixed up. If you also have this problem confusing the two identically initialed Mohler mentors and remembering which of the architects of the Southern Baptist "conservative resurgence" is which, here's my little mnemonic device: It's the opposite of how it sounds. Patter-son is the one with the creepy sexual history toward people's daughters, while Press-ler (rhymes with her) is the one with the creepy sexual history toward young men.
And if you're trying to remember the name of the architect of the Southern Baptist conservative resurgence who didn't later get revealed to be a spiritual and/or sexual abuser, that's easy: There wasn't one.
• Daniel Schultz makes some good points about "The Problem With an Evangelical Petition Calling White Nationalism 'Heresy.'"
One problem is that "heresy" is just not a useful or meaningful category for anti-credal, anti-ecclesiastical evangelical Protestants. As Schultz writes:
Despite the rhetoric of "one God, one faith, one baptism" there is indeed no standard authority for determining what must be believed in order to call oneself a Christian. The congregational polity embraced by the vast majority of evangelicals was designed exactly to avoid orthodoxy imposed from above. …

The result of this structure, by design, is that individuals and small groups have the option of agreeing to disagree on the interpretation of the faith. That's useful when you want to include more people, but the same sword cuts back when it comes to evicting Trumpists and violent insurrectionists.
The other problem is that the groups this statement seeks to "evict" (or to condemn of heresy) are much larger and more central to white evangelicalism than those attempting to evict them. The statement describes "Southern Baptists, Pentecostals and the televangelists" as part of "an inextricable alliance with the Republican Party," and concedes that these groups are "major branches and subcultures of conservative evangelicalism." But, as Schultz says:
Southern Baptists, Pentecostals and televangelists are evangelicalism, for better or worse, and their embrace of white nationalism has a long and ugly history. They can't somehow be separated out from American Christianity, much less American evangelical Christianity. Yes, the faith has something to answer for in that it could bear such fruit in such numbers. That some evangelicals now wish to separate themselves from what their faith tradition has devolved into is well and good, but we shouldn't kid ourselves about the ways that same tradition fostered the very problems to which critics now object.
Or, as I put it here a while back, "The 'Weird' Fringe is the Biggest Part of White Evangelicalism." They're driving this bus.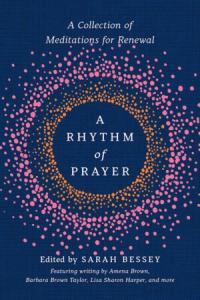 • I am very pleased to see that A Rhythm of Prayer has landed on national best-seller lists.
The book is edited by the wonderful Sarah Bessey and features contributions from a host of "Bonfire" stalwarts (if you remember that) and other terrific writers, all of whom deserve all the success this book seems to be having.
I don't write about the subject of prayer much because recounting one-way conversations with someone else tends to be a very you-had-to-be-there subject. My own prayers tend to be terse, staccato statements that are usually context-specific. "You've gotta be kidding me," or "You're OK with this? People are gonna say you're OK with this. You OK with that?" or "Give me a break," or "Give that guy a break." That sort of thing.
The most serious thing I've written here about the subject of prayer probably seems like a joke. But it's not a joke. Not entirely, anyway.
• "Nobody listened to me," Marjorie Taylor Greene says, in contradiction to the story she has just finished telling — a story in which she forced dozens of her neighbors, her local librarian, and her county commissioner to listen to her. And they all did, in fact, listen to her. They just did not agree with her.
This is what Marjorie Taylor Greene means by "Nobody listened to me." She means, "Nobody surrendered all of their opinions to me, praising me for having superior opinions, then carrying me around on their shoulders in celebration of my being cooler and smarter and prettier than all of them put together."
And when that is what someone means by "Listen to me," no amount of listening to them will change anything.
• Every time Terry Taylor reads a book, he writes a song. If he really likes the book, he writes an album of songs. The title of this post comes from the Swirling Eddies' 1989 non-hit song "Urban Legends," from the album Taylor wrote after reading Jan Brunvand (hence the nifty double-meaning of the lyric, "I picked up the vanishing hitchhiker/The Vanishing Hitchhiker").
The vibe is pure '80s, but the song still seems Q timely.