• We're losing our local newspapers and our local news reporting. This is a huge problem for a host of very important reasons. But it also means we're losing some of the less-important, but still valuable things that local reporting has traditionally provided us — like stories on Large Animals Where They Don't Belong.
Joseph Hammond has more on that story for RNS (the camel escaped from a living Nativity, so there's a legit religion angle here), including some nice background: "This isn't the first time Kansas police officers have had to respond to an escaped camel over the holiday season. …" If that doesn't make you want to keep reading, then I'm not sure we can be friends.
• RNS also brings us this news: "New documentary 'Daughters of Eve' imagines a Bible, and world, with women at the center."
I'm leery of references to "Sons of Adam and daughters of Eve." I mostly associate that phrase — positively — with C.S. Lewis' Narnia stories, where it was used by the talking animals to refer to us humans from Earth. In those stories, the phrase seems chosen for its poetic parallelism, which is all well and good. But ever since, it's sometimes been conscripted to suggest something allegedly deep and meaningful about gender roles — as though men are heirs, exlusively, of Adam, while women are heirs, exclusively, of Eve (which is not how gender or inheritance or sex works).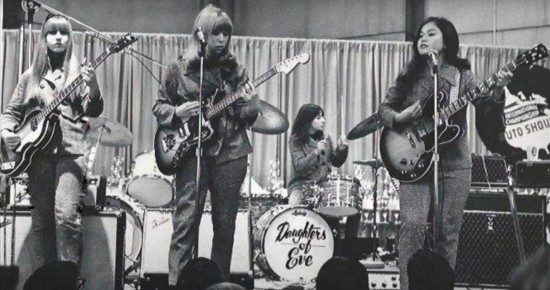 So when I encounter this phrase, I like to cheerily add "And we're all daughters of Adam and sons of Eve too!" If that causes the speaker to balk, then I know I'm dealing with someone who isn't going to let little details like logic and How Genetics Works interfere with their gender stereotypes.
So I was encouraged to read this, from filmmaker Zanah Thirus:
My mom would always read us the Bible, and we'd talk about Cain and Abel, and I would be like, where are the daughters? I started to understand the lack of agency that woman had. I hated the story of Esther — she never asked for any of this. Or Bathsheba. Why did David have access to her in that way?

So my thought was, if Eve had daughters, what would their experience be like? What if this story was told, from the beginning of time, as centered around women?
That's an illustration of why when I'm sometimes asked if I "believe women can preach," I'll say, "Believe it? I've seen it with my own two eyes!"
See earlier: "Eve is 'under the Curse,' but Adam is blessed."
• And here's a third — and closely related — story from RNS: "It's back: Purity Culture 2.0, Gen Z style."
Purity culture lives on, and a new generation of influencers on social media as well as recent books are pushing it mainstream. I'm calling it Purity Culture 2.0, and there's reason to be concerned about its resurgence. …

It's not the pastors who are the most effective creators of Purity Culture 2.0 — it's the social media influencers.

Nate and Sutton are one of many Christian couples who monetize their life and family on YouTube and Instagram, repping products with discount codes while sharing heartfelt self-help advice via personal testimonials about topics like dating, marriage and parenting.

Girl Defined, Paul and Morgan and Chelsea and Nick collectively reach millions of younger Christians with their edited and well-produced YouTube videos. A quick perusal of evangelical Instagram or YouTube will yield hundreds of these kinds of accounts, ranging from theologians who sell essential oils, to relationship coaches with e-courses for sale.
Devi Abraham's report reminds us that we've heard this story before. I'll remind us that we've also seen how it's almost certain to end. It's just that this time around we'll get to watch the impending scandals, separations, and ugly recriminations unravel on TikTok and YouTube.
• I suppose another reasons the phrase "Daughters of Eve" bristles a bit is because it reminds me of Daughters of Sarah, the now-defunct magazine of what was once the Evangelical Women's Caucus, and that, in turn, reminds me of how that group split in 1986 after EWC passed a resolution affirming that "homosexual people are children of God" and supporting full "civil rights protection for homosexual persons." Most of the funding left at that point, along with all the group's prominent white evangelical supporters, and the EWC was thereafter shunned and anathematized to such an extent that even my "progressive evangelical" mentors in the '90s barely acknowledged the group's existence.
That's a long, ugly story that I'd summarize by inviting you to imagine an alternate ending to Blazing Saddles. Remember that scene at the end when the railroad-workers and the white townsfolk need to come together to save the town and it takes the white folks a minute to accept the idea: "We'll take the [Black workers] and the [Chinese]," Olson Johnson says, "… but we don't want the Irish!" Well, just imagine that Bart and Jim had accepted that bargain — agreeing to exclude one group of outcasts as the price of admission for themselves. And then, because of that, they fail to save the town and Rock Ridge is destroyed and Hedley Lamarr's thugs and klansmen and Nazis win.
That's pretty much what happened to "progressive evangelicalism" and the whole "Chicago Declaration" movement as a result of the nasty bargain they chose to make in 1986. So.
• Speaking of corrupt bargains coming back to bite … "3 residents of The Villages arrested for casting multiple votes in 2020 election":
SUMTER COUNTY, Fla. – Three residents of The Villages have recently been arrested as part of an ongoing investigation into voter fraud, court records show.

Jay Ketcik, Joan Halstead and John Rider are each charged with casting more than one ballot in an election, a third-degree felony punishable by up to five years in prison. …

All three were registered as Republicans in Florida at the time of the election, voter registration records show.

… Facebook pages that appear to belong to Ketcik and Halstead contain several posts expressing support for former president Donald Trump.
• The title for this post comes from the lyrics to Jack Wagner's only Top 40 hit, "All I Need," which was briefly the No. 2 song in America in 1985. Wagner wasn't a one-hit wonder, though, since he also had a long and successful acting career on shows like General Hospital and Melrose Place.
I wouldn't say "All I Need" was a good song, or even that I remember it fondly, but I'm including it here because today I had to retrieve a special order for a customer named Jack Wagner.
Me: What's the name on the order?<
Customer: Jack Wagner.
Me. Thank you, I'll be right back. [awkward beat] All I need is just a little more time.
Customer: [blank, expressionless silence]
Admittedly, the customer probably wasn't born yet in 1985. But still. If we completely forget even our forgettable proto-Richard Marx-ish '80s pop ephemera, then we've lost … something. Maybe.