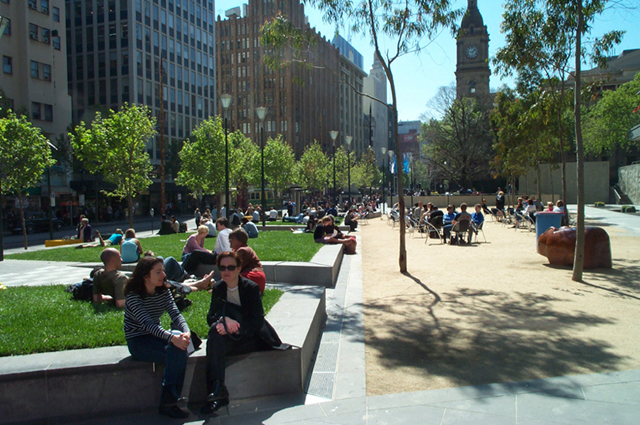 My pastor and friend, Bob Henry, posted a link on Facebook a few days ago to the text of a poster that was included in the October 2010 issue of YES! Magazine. (The poster is still available for purchase for three bucks through the magazine's website. You can also download it for free as a PDF.) October 2010 was the Resilient Communities issue, and the poster was called "51 Ways to Spark a Commons Revolution."
The text from the poster was adapted from Jay Walljasper's 2010 book All That We Share: A Field Guide to the Commons (New Press). Reviewing the book for the Englewood Review a few months ago, Chris wrote:
All That We Share is the sort of book that invites conversation and what better place is there to have conversations about seeking the common good and the common wealth than in our church communities in which we have been called to a life together that is marked by koinonia.
That was my friend's point on Facebook the other day, that the poster's "51 Ways to Spark a Commons Revolution" – broken into categories like Social Change, Environment, and Money & The Economy – was a great challenge for the Church. What if our lives as Christians, and the lives of our faith communities, were characterized by some of the following?
1. Challenge the myth that all problems have private, individual solutions.

2. Notice how many of life's pleasures exist outside the marketplace—gardening, fishing, conversing, playing music, playing ball, making love, watching sunsets, and much more.

4. Introduce the children in your life to the commons. Let them see you enjoying it, and working with others to sustain it.

15. Create or designate a "town square" for your neighborhood—a park, playground, vacant lot, community center, coffee shop, or even a street corner—anywhere folks naturally want to gather.

17. Conduct an inventory of local commons. Publicize your findings and suggest ways to celebrate and improve these community assets.

20. Buy from local, independent businesses when possible. (amiba.net, livingeconomies.org).

34. Learn from everywhere. What can Germany teach us about health care? India about wellness? Africa about community solidarity? Indigenous nations about the commons itself? What bright ideas can we borrow from a nearby neighborhood or town?

38. Organize a community garden (communitygarden.org) or local farmers market.

50. Launch a commons discussion group or book club with your neighbors and colleagues, or at your church, synagogue, or temple. (onthecommons.org)
Slow Church's emphasis on shared traditions and good conversation means that we will have to engage seriously with the shared space of our common lives. How are our churches protecting and promoting the commons? What are some things we can do but aren't doing…yet?