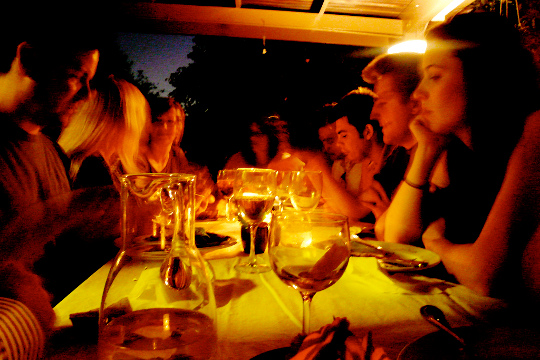 Conspire! magazine is a project of The Simple Way and a growing number of "co-conspiring communities" around the country. Each themed issue includes great writing and visual art, all with an eye toward building relationships and exploring "the questions of faith that arise from living for justice and as part of the body." The current issue is about "Food, Feast, and Table," and it includes, among other features, an essay by Jonathan Wilson-Hartgrove, an interview with Wendell Berry, an article by Mike Morrell, and stunning food-themed outsider art by a variety of artists.
In the month of November, Conspire! is inviting folks around the country to host Gather 'Round celebrations that will bring communities together to eat, talk, and plot goodness together. When I saw this issue's theme, and when I saw this video about Gather 'Round, I knew I wanted to interview someone at Conspire! to get more details. I talked to Dee Dee Risher, the magazine's editor, earlier this month. By pure coincidence, I'm publishing the interview on National Food Day.
Q: For readers who may not be familiar with Conspire! yet, can you give us a little background about the magazine? What is its mission, and what are the origins of the name?
The name is a reflection of the mission. Conspire! means "to breathe together." People are trying to connect with each other and with life-giving work. That's why we have as our subtitle "Plotting Goodness Together." This is the idea that we can all do something for good where we are. Of course there is an edge to it too, and I think that reflects Conspire!'s desire to see clearly, lift up the beautiful things in our culture, society, and hearts – and also to see with the eyes of justice and critique things we feel could bend more toward the reign of God and the vision of scripture. That's how the name came together.
Conspire! is a quarterly magazine. We want it to be as visually inspiring – tapping into the talents of artists – as it is about people's gifts with words. When the magazine started, we asked a number of communities (now numbering about fifty) to buy into the idea, to contribute regularly, to serve on the editorial board, to make it a wider circle. Conspire! is a way of bringing together people who are doing great things in every area.
Q: The theme of the most recent issue is "Food, Feast, and Table." How does this theme fit in with the larger mission and vision of Conspire!?
Well, every issue is organized around a theme, and this theme was suggested by some of our "co-conspiring communities." Our focus on food has many dimensions. It involves hospitality, who you're sharing with. And it involves asking questions about the system creating our food. There are parts of that system that many of us would say are broken: the farmer who grows the food and is paid very little, the process of bringing food to us often means food is altered in ways that are often unhealthful. Many of our communities are addressing this by growing their own food and figuring out ways to re-distribute food to people who can't regularly eat. It's hard to imagine but in the United States and Canada and other countries there are many people who don't have regular access to food.
Food is also very core in Scripture. Most of our Christian tradition revolves around remembering and reenacting a meal Jesus had with his disciples. So there is a spiritual dimension to food, hospitality, and how we bring people together. That made the topic perfect for us.
Q: The local, Slow, and organic food movements are sometimes criticized as elitist. The criticism is that eating local and organic is simply not an option for folks who aren't rich or upper middle-class. But this issue of Conspire! talks about the small gestures of re-imagining a more just food system. What are some of those small gestures?
Let me start by addressing your first point, which I absolutely share. I have to say I'm not an organic food buyer because I can't afford organic food. However, I've learned to grow a lot more of my food. Between April and October we eat organic because we can grow it.
One of the things we were struck with and talked about when we talked about food – it's a complex point, but let me try to say it – is that it feels like when you eat, there are many options. There are many ways you can work for justice and for the community. (Really we are working for healing.) Some people say they are going to eat all organic. But you're right, sometimes that takes a certain educational awareness, and it takes a certain amount of disposable income. But you can also say, "I'm going to invite people to my table who might not usually be in my world." And maybe you cook food you usually don't cook for yourself because that is what they love. We all feed our guests. I don't think the only just choice is expensive, organic food. Anyone can share food. That's why one of the simple actions we have in the magazine is to put a few extra seats around your table.
This issue of Conspire! is about how food can bring us together. Buying organic isn't the only path; there is also being aware of food, being aware of how it's created, and sharing food. And also trying to stem food waste. There is an article in the magazine written by somebody who is a full-time dumpster diver. He likes to dumpster dive in health food stores, and that's how he gets his organic food. The fact is, a lot of people have to scavenge their food, but we have a food system that is managed in a way that food is often tossed.
So we're trying to come at the topics of food and how it is shared in a variety of different ways. Perhaps some people would even critique this issue as too aware of some people's limited incomes.
Q. What are some of the other small gestures?
One of the things I love about this issue is a piece Mike Morrell put together. Mike served as a guest editor on our editorial board for this issue. He sent out a survey out to a hundred communities, people who are very active with food, and they wrote back and talked about what they are doing on their little local food front. These little snippets about what people are doing came to 10,000 words. We couldn't fit it all in the magazine. [Editor's Note: Click here for this and other food resources from Conspire!]
One person said that cooking for people is how she prays for them. She adds healthy ingredients and prays for their strength. Or she adds creamy things and prays for their comfort. Some people said they live in suburbs, but they've plowed up their front yard to grow food. They put out a basket of free food – not because their neighbors are going hungry (it's a fairly affluent neighborhood), but because people are hungry for community. Some people talk about how they are making food a part of their worship services. Some churches said, "We planted a little garden where people come for food. We give them food from our pantry and then we say, 'Let's go outside and pick some beans.'"
I was touched by the creativity, by how many different ways people are approaching the issue of food. One church talked about how every year around Thanksgiving they host a meal where people tells their immigration stories: how their families came to this country or how they came to the neighborhood.
There is a college group who has made contact with all the community gardens in their city. The college group gleans the surplus. Then they take a van to the food deserts, to the parts of the city that have no fresh produce, and they sell the produce at a nominal price to residents in those neighborhoods. That's a more complicated project but it's still people getting together to make food more accessible.
We put some of these stories and ideas in our issue, but we continued a lot of it on the website, which is www.conspiremagazine.com. You can't read the survey responses without thinking, "I'm going to go do something. I think I can do that. I feel a bit overwhelmed but I can at least do that." People are throwing in all their ideas and you feel such license to do what you can without feeling like you have to go be a sustainable farmer, move back to the land, and grow a hundred percent of your food. Almost none of us can do that. And if all of us moved onto farms there will be a lot of people left in the cities who don't have support to re-work their own food stories.
Q: How do the themes of food, feast, and table embody the gospel?
Table, obviously, is an allusion to the communion table. Food is a nod to the issues of justice around food – from who is growing the food, to how it's being grown, to which technologies are getting funded by public funds and which aren't.
Feast is the core sense that God's creation is abundant, if cared for, and we are one of the caregivers of the planet. We are conserving the creation that is holding us. This is something Wendell Berry is constantly reminding us about, that we are responsible for managing and shepherding the land. We have an interview with him in this issue, and he says that if you grow even one foot of plate on your own rather than buy it from food corporations, you are acting radically. If you shop at a farmers market, you're acting radically. And his meaning of radical is that you are acting at the root. Radical means "root," and you're addressing a root cause.
So we have food talking about justice, feast talking about abundance, and with the table we are talking about the tables that bring us together. But ultimately we're talking about the way we gather and experience God in our midst, broken for us, sharing with us the Eucharist, the communion.
Q: That's a great segue for us to talk about Gather 'Round. Throughout the month of November, you are asking people around the country to invite people into their homes or their gathering places for a night of celebration, to experience the joy and sacredness of the table. Why is it important for folks to eat together?
Gather 'Round stems from Conspire!'s sense that people are hungry for connection, that people are yearning for community, and that people love to eat! Gather 'Round is a way for people to gather in local areas, enjoy each other, and possibly plot a little goodness where they are. Maybe out of the connections they make at dinner that night someone will suggest turning the abandoned lot into a community garden, or suggest that everyone goes together to buy cheese from a local producer, which is the most elementary form of co-op.
People can sign up on our website if they want to host a meal. Some may want to invite and plot goodness with people they know. Others are saying, "Look, I can host twenty people and I want to have a potluck. You put out the word." Folks can go on to the website – maybe their apartment is too small to host – but they can go to the website to see if someone in their neighborhood is hosting a Gather 'Round feast. Everyone who goes to Gather 'Round will get a copy of this issue. Materials will also be available to the hosts if they want to talk about the food system. But the idea really is to bring people together around food without an agenda.
Why do Gather 'Rounds? One reason is that we are cooking less and less and we often eat on the run. We don't sit down at the table every night of the week or three meals a day anymore. That was the case for my grandmother and mostly true for my mother (we're Southern and we hang on a little longer), but it is uncommon today. Yet many people love to cook, and other people love to eat. Gather 'Round encourages us to get together and savor our senses. Every Friday night [at The Simple Way], I see people invigorated when they meet over a meal and talk. People are hungry to experience each other.
This is something I've sensed with Conspire! since the beginning. Conspire!'s vision is one of being connected and being led together. That's one reason we don't do a lot of web stuff. Though we put a small segment of every issue on the web, we don't publish a full electronic issue of the magazine. What we've learned is that people want to physically connect. The vision for Conspire! came out of group of twenty-somethings who were totally wired, totally comfortable with technology, but they realized that tactile, face-to-face, flesh-on-flesh relationships with people were being minimized in the technological world. When we started, you actually had to go someplace to pick [the magazine] up from a community. Now we realize how limiting that is if people aren't living near one of those communities. So now we mail it – but we always send a second copy so they have to connect and give it to somebody. We want this to be a magazine that brings people face-to-face. Gather 'Round taps into that.
Food is cultural. For example, our comfort food is often the comfort food we grew up with. But when we have to reach across cultures, try different foods, and try different conversations, we are being stretched to communicate and cross bridges and achieve that human contact. And that is what keeps me going: seeing people connect like that, those implausible and lovely relationships that are created when we reach across from the familiar to the unfamiliar.
You asked why it's important that people eat together. I think it's because anybody can come together around food. They can talk about the recipe and what their mama cooked them, or what their dad cooked them. Who can't start from there?