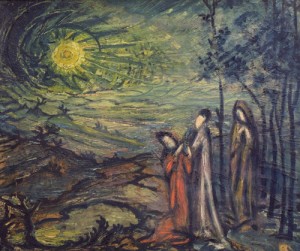 Incarnating Christ in Our Places.
Daily Advent Reflection.
Chris Smith.
Micah 5:1-5a
Wednesday November 30, 2011
Because we have not made our lives to fit
Our places, the forests are ruined, the fields eroded,
The streams polluted, the mountains overturned. Hope
Then to belong to your place by your own knowledge
Of what it is that no other place is, and by
Your caring for it as you care for no other place, this
Place that you belong to though it is not yours,
For it was from the beginning and will be to the end
-Wendell Berry, from "Sabbath Poems 2007, VI."
[ Read the full poem ]
"O Little Town of Bethlehem"
– Emmylou Harris and the McGarrigle Sisters
*** Listen: [ Youtube ] [ Spotify ]
These daily Slow Church Advent Reflections are based on the Daily Readings of the Revised Common Lectionary (Year B). We love for you to read and reflect along with us!
To keep up with this daily Advent series, follow SlowChurch.com on FACEBOOK or TWITTER.
How peculiar is it that the God and Creator of all would be born in a stable in Bethlehem, a backwater town of Judea? Yesterday, we explored the contrast between the self-absorbed powers of Babylon and Christ, who emptied himself. The nature of empire is to seek the universal, in order that the powers might exert their controlling and exploiting forces everywhere. Creation, however, is richly diverse and resists generalization; it is in the midst of this creation that Jesus was born at a particular time and place in Bethlehem, one of "the little clans of Judah" (v. 2). Creation rejoices, as we noted yesterday, because in the coming of Christ, exploitation has ceased, and part of Christ's redemption is that places – like humanity – are redeemed in all uniqueness and particularity with which they were created.
Today, the powers inherent in a globalized economy are working toward the destruction of places. A Taco Bell or Home Depot looks pretty much the same whether one is in Toledo or Tallahassee or Tacoma. And it is in this world that we are called to be local communities of the people of God. Because God loves the diversity of the creation, God has chosen a way of redeeming creation that is attentive to its local particularities. Specifically, our church communities are local manifestations of Christ's Body in our particular places. God gathers people in our churches that are gifted in precisely the way that God wants to be embodied in our particular places. A key dimension of what we call Slow Church is our becoming attentive to God's means of redemption as described here. As we slow down and recover our identity as God's people – the people who shall be made afraid by no one – we begin to discover that places matter, our local church communities matter.
Just as Christ's incarnation, the "one of peace" (v. 5) come to earth, unfolded in a particular time and place, in Bethlehem at the appointed time "when she who is in labor has brought forth" (v. 3) – a time described in great detail in the genealogies of Matthew 1:1-2:12 (a passage that quotes Micah 5:2) and in the setting up of the nativity story in Luke 2:1-4 – Christ continues to be incarnated by our church communities today in the particularities of our places. As we do so, and especially amidst a globalizing world, we would do well to remind ourselves of the wisdom that Wendell Berry offers in the above poem. We have been enslaved by the selfish lusts of the powers and as a result "the forests are ruined, the fields eroded, / The streams polluted, the mountains overturned." Heeding the call of to "Come out of her, my people" (Rev. 18:4), we need to come to know and belong to our places, to recover their identity as places and to embody the self-denying and redemptive love of Christ that will transform our places. Berry says later in the same poem:
No place at last is better than the world. The world
Is no better than its places. Its places at last
Are no better than their people while their people
Continue in them. When the people make
Dark the light within them, the world darkens.
In Christ, a light has shone in Bethlehem and continues to shine among our church communities in our places, a light that helps us to imagine and then embody the peace of Christ among our neighbors. May this Advent season be a time that as we slow down, we come to see and know in newer and deeper ways the unique gifts that God has given us in our neighbors and our place. For it is here, in the midst of all the particularities of our life together that Christ is being incarnated again, as he was in Bethlehem. We cannot, as Berry reminds us, continue to love and to care in generalities, but by learning to love and care in real and meaningful ways for the unique neighbors, land and other gifts that God has given us in our places.
———-
Chris Smith is co-writing Slow Church (forthcoming Likewise/IVP Books) with John Pattison. He is editor of The Englewood Review of Books, and a member of The Englewood Christian Church community on the urban Near Eastside of Indianapolis.