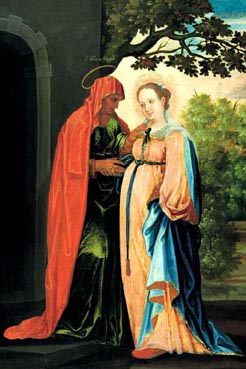 The Theme Song of Slow Church?
Daily Advent Reflection.
Chris Smith.
Luke 1:46b-55.
Tuesday, December 20, 2011
The Magnificat – Arvo Pärt
Listen:  [ YouTube ] [ Spotify ]
Magnificat – The Psalters
Listen: [ YouTube ]
These daily Slow Church Advent Reflections are based on the Daily Readings of the Revised Common Lectionary (Year B). We love for you to read and reflect along with us!
To keep up with this daily Advent series, follow SlowChurch.com on FACEBOOK or TWITTER.
One of the lectionary texts for today (as well as both yesterday and tomorrow) is the Magnificat, Mary's song of praise to God as she carries Jesus in her womb.  The Magnificat is a familiar prayer in many different traditions of the church, and has been arranged to music in various ways throughout church history (consider the two very different renditions above).  Beautiful and familiar as this prayer may be, its power lies in the story it tells, the story of God's transforming a rebellious creation, the story to which Mary had submitted herself and to which we also submit ourselves.
The good news of God is that this kingdom that will subsume all creation is birthed by lowly servants like Mary and ourselves; it comes not from the palaces of Imperial Rome, but through the humble Israelite people. The proud are scattered, the powerful brought down, the lowly are lifted up, the hungry are filled with good things, the rich go away empty.
Whether we hear the Magnificat as good news depends, of course, on our aspirations.  If we are aspiring to riches and power, then Mary's prayer probably does not sound so much like good news to us.  But if we are aspiring to be part of God's faithful people, then indeed this will be good news to us.  The Magnificat could be the theme song of Slow Church: the story it tells is the way of Mary, the way of Jesus, the way to which we are called.  The kingdom of God is not going to come by taking over the seats of power, the thrones of empire, the Oval Office or the seats of Congress.  It is not a "trickle down" Gospel, but rather a grassroots one that is located in the people of God, people who have submitted themselves to the story of God's reconciling all creation, and whose main purpose is to abide in that story.  It is good news, of life and even abundant life, but we only hear the good news of God's kingdom to the extent that we – like Mary – have denied ourselves and submitted ourselves to God's reign.  To the extent that we have aspirations to wealth, power and comfort – and I imagine that if we are honest with ourselves, most of us do – we will resist the coming of God's kingdom.  A person cannot serve two masters, Jesus said; will we be able to sing the Magnificat with Mary in this Advent season?  It is not just a beautiful song, it is our hope in the present and for the ages to come!