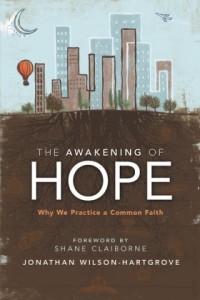 Jonathan Wilson-Hartgrove's newest book
is the book of of the month over at the Patheos Book Club.
For more on the book, check out Tony Jones' review,
and more coverage at the Patheos Book Club…
Watch for our review here tomorrow and for an interview with Jonathan
about the book in the next print issue of The Englewood Review of Books!
---
Today we're giving away 3 copies of the book, 1 copy of the accompanying DVD (which features Jonathan and Shane Claiborne) and 1 book/DVD combo package!
Enter to win a Free copy of this book (It's as easy as 1, 2, 3!) :
1) Follow the Slow Church blog on Twitter– or – LIKE our Facebook page (LGT: More info… )
2) Post the following message on your blog, Facebook Page, or on Twitter:
I just entered to win a copy of Jonathan Wilson-Hartgrove's new AWAKENING OF HOPE from @SlowChurches! You can too: http://su.pr/2uJzRO

3) Leave a comment below noting which option you chose for #1 **and** a link to your post for #2 before 12AM PT on Thursday August 30, 2012.
(Leaving a comment is essential as we will draw the giveaway winners from among the comments left.)
——-
We will draw the winners at random after the Book Giveaway ends, and will notify them ASAP…