Over the last week, I've been reflecting on how we can find hope in these anxious times.
(Anxiety, of course, not only fueled Trump's rise to become the president-elect, but also the resistance to his platform in the wake of the election). I wrote a new piece for Relevant that is woefully brief, but that I hope will emphasize that our hope of a different — and better — sort of politics begins in our local churches.
Make an ongoing commitment to know those in your church who differ from you. Step out of your comfort zone; join a Sunday school class, small group or church committee in which you are a minority. Invite people over for meals, and learn to listen to them.

Conversation is the primary means by which we humans know others and make ourselves available to be known by them. As we begin to know others of different backgrounds, our abstract labels tend to fade in the presence of our real, flesh and blood presence with one another, and we become less inclined to demonize the other.

…

Finding opportunities to work with other churches—and particularly churches whose congregations are vastly different than our own—might be a good place to start. What are the concrete ways that we can bear witness to the unity of Christ's body by working together for the flourishing of our neighborhood? And then, we should also find ways to work with other community groups—neighborhood associations, mosques (or other faith communities), business associations, arts associations and similar organizations.
I've been inspired over the last week, by re-reading one of the most important theology books of 2016, John Nugent's Endangered Gospel: How Fixing the World is Killing the Church (Cascade Books).
Social action makes us feel relevant and alive, but it can't be the center of our new life in Christ. Endangered Gospel explores how we might enthusiastically embrace the social dimensions of the gospel without divorcing them from the church or forcing them on the world.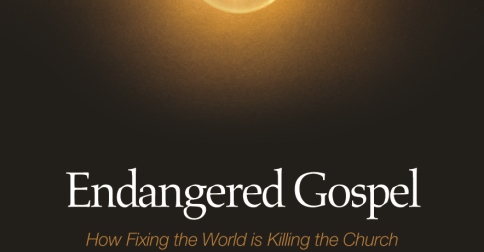 I'm hosting a read-through and conversation about this book over on The Englewood Review of Books website. We are one post into the conversation, and are already generating lively conversation and the author has been an active participant. A new post will go live tomorrow, and we will likely spend the rest of 2016 discussing the book on the ERB site.
I don't always agree with John — we have an unfolding dialogue about some of these differences, which will eventually be posted on the ERB site — BUT I do heartily agree with his thesis that we need a deeper focus on the church in the ways that we talk about and embody our faith, and I think that the central questions that he tackles in the book, are ultra-timely and ones that, agree or disagree, we need to be wrestling with now:
"In the past, we've wanted to save the people from this broken world. Nowadays, we want to fix it.  We want to end war, purify water, feed the poor, and eradicate all forms of discrimination. We don't just want to talk about it; we want to do something and make a difference… But I wonder, has God really called us to fix the world? Is this what Jesus meant by calling us salt and light? Are we even capable of fixing the world? Is it something God has empowered us to do?" (4)
I hope that you will join us as we wrestle with these pressing questions and imagine what a politics of hope that is rooted in our local church communities might look like…
———–
IMAGE CREDITS: