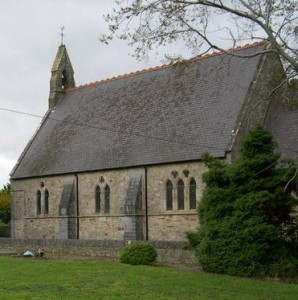 This is the third post in an ongoing series on "Slow Church and the Urgency of Justice" (Link goes to the initial post in the series).
Yesterday, in unpacking Walter Brueggemann's definition of justice, I emphasized his point that essential to the process of doing justice is being part of a covenanted community that is seeking to live justly together. Today, I want to dig a little bit deeper into why I believe that the local faith community is essential to the pursuit of justice. First, a reminder that the primary question that I am dealing with in this series is that of the urgency felt by those who suffer the pain of injustice, and how we make sense of that within this framework that John and I are calling Slow Church. Learning to live justly as part of a particular faith community doesn't seem — on the surface of things at least — to be an expedient response to the pain of injustice. It is important that we are always sensitive to this sort of pain (as I believe God is), but the trickier question is how do we respond? Broadly speaking, our response should be shaped by the biblical wisdom of being a people who are "quick to listen, slow to speak and slow to become angry" (James 1:19).
One of the key themes of the Slow Church project is the call to repent of our tendency to separate ends from means. So often we hear and feel the pain that others are feeling and get seduced by the rhetoric of "by any means necessary," and become inattentive to the sorts of injustices that we might be propagating as we seek to right the initial injustice. If our first commitment is to a church community and if we are seeking to embody Jesus (the just and righteous one) together, we are immersed into a tradition that teaches us HOW to respond to injustice. Of course, as a result of our human brokenness, there is no guarantee that we won't propagate other injustices as we address a particular injustice, BUT it crucial that our aim is to not only seek justice, but to do so in a just manner. It is really easy for us to lose sight of Jesus, our example, whose means of addressing injustice was ultimately the cross, or in other words, that he preferred to suffer and die offering himself as an embodiment of justice rather than to return evil for evil (consider his disarming of Peter in the Garden of Gethsemane as he was being taken away to be judged and crucified).
A commitment to seek justice first as part of a faith community is also a reminder that we ourselves are bound up in injustice and need transformation. Let me be clear that I am NOT saying that we focus exclusively on building a just life together and forsake being engaged in the injustices of the larger world. Rather, it is by committing ourselves to seeking justice in our local faith community that we learn HOW to engage justly in the brokenness of the world.
NEXT TIME: I will continue this argument for seeking justice first as past of local church community, by exploring the significance of place and how that dovetails with the reconciling mission of God in the world.