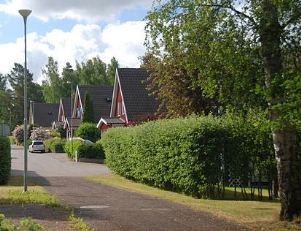 This is the fourth post in an ongoing series on "Slow Church and the Urgency of Justice" (Link goes to the initial post in the series).
In yesterday's post, I began an argument for beginning to seek justice by being committed to a local church community. Today, I want to continue that argument by exploring the role of place as we seek justice.
Our local church congregations are essential for us in seeking justice, because they are rooted in a particular place, although I must hasten to add that many churches have very shallow roots in the places where they exist. For churches that do have shallow roots, I highly recommend looking into the excellent work of the Parish Collective (I am planning to go to their annual Inhabit Conference in April). Many Christian scholars and writers have made a poignant case over the last decade for deepening our roots in our particular places (for starters, I'd recommend Jonathan Wilson-Hartgrove's The Wisdom of Stability and Alan Roxburgh's Missional: Seeking God in the Neighborhood — links go to my reviews), and I won't reiterate their case here, but simply take their work as true for now and assume that place matters deeply to our local congregations.
What place means for our churches as far as seeking justice is that the next step in our maturity beyond seeking to live justly together within the church community is that we are attentive to and engaged with our neighbors' struggles against injustice. Through being with our neighbors and listening to them and living compassionately with them (maybe at some point in this series, I will reflect on the superb book Compassion by Henri Nouwen, Donald McNeill and Douglass Morrison). The roots of the word compassion mean "suffering with," and indeed that is our calling in the way of Jesus, to enter patiently into the suffering of our neighbors. In this way, we learn to engage injustice in the particular and the concrete rather than taking up a more abstract cause to which we have a more tenuous connection.
Although we seek to engage in the struggles of our neighbors, this engagement might take us far beyond the bounds of our neighborhood, as many of the powers that oppress our neighbors operate at the state, national and transnational levels. I am currently writing a piece for Christianity Today's This is Our City website, on how the Christian Community Development Association (CCDA) has grown and matured over the last five to ten years. One of the facets of the story that I'm telling in this article is that early in its history CCDA was almost completely focused on doing community-building work in particular neighborhoods across North America. However, as they persisted in this good neighborhood work, they found certain common struggles that many of their neighborhoods faced for which they could collectively advocate as a national (and international) organization — including immigration reform and Native American issues. CCDA was not seeking causes to get engaged in, but in recent years have found themselves working on these broad national issues because of the real and particular injustices manifested in neighborhoods where their members live and work.
I should also emphasize here that all neighborhoods have injustices that plague them. Certainly, in some urban and rural places these injustices are clearly manifested, but in other places (including many suburban places) injustices are buried a bit deeper. Isolation and loneliness (and a built environment that often reinforces them) are injustices that plague many suburban places, for instance. Our call to seek justice includes knowing our neighbors and entering with them into the struggle against the injustices that plague them.
It seems that God's plan for bringing justice and reconciliation to creation, as we have come to know this plan in the scriptural story, is centered first around a people who seek to embody justice in their own particular places. Then as we are seeking to embody justice locally, we come to see how our place is bound up in God's interconnected creation with the health and flourishing of other places, and although our primary energies are invested locally, we begin to learn to address larger injustices alongside people in other places who are suffering under the force of these injustices. Just as Jesus was incarnated in a particular time and place, and focused his energy primarily on a small group of disciples, it seems that similarly we are called into an incarnational sort of witness that is centered on embodying Christ in a particular place in a way in which our neighbors can see and experience Jesus firsthand through us.
Next time: (Which will probably be next week) The problem of abstracts: why we must work first and foremost with particular injustices.