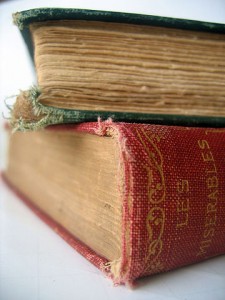 I was sitting down this morning to write the next post in the "Slow Church and the Urgency of Justice" series, when I got distracted by an excellent post by Jon Boyd on the Intervarsity Press blog…
Boyd shares some excellent thoughts from novelist Junot Díaz, and then poses these questions:
What are we doing these days, and what more could we be doing, to encourage readers in this day and age? Where have you seen bright spots, fertile nurseries of readers-in-the-making? What ideas do you have to multiply such incubators and make them even more fruitful?
John and I are both passionate about what we like to call "missional reading," i.e., that practices of reading (and of discussing books) in our church congregations is essential to our faithfulness to God's mission in our particular places. Few would argue that reading the biblical text is essential for our churches, but I maintain that in order to read and interpret the biblical text well within all the particularities of our own context, we need to be reading broadly: not just theology and biblical studies, but ethics, ecology, economics, farming, cooking, health, sociology, art, history, culture, etc. And this sort of reading and interpreting cannot simply be left to professional clergy, it requires the diversity of skills, gifts and perspectives of a whole congregation. I am reminded of the powerful words of Duke Divinity School's Willie James Jennings as he envisions the work of local congregations in the conclusion to his book The Christian Imagination (LGT: my review in the ERB):
A social imagination that begins to take place seriously begins to grasp the textures of the social in a comprehensive way. At one level, I hope to open up a new dialogue between disciplines that rarely interact – geography, theology, postcolonial theory, race theory, ecology, Native American studies and so forth. In this regard, I hope for a conversation between those deeply involved in the formation of space and those concerned with identity formation – urban planners, ecologists, scientists, real estate brokers, developers joined in conversation with theologians, ethicists, literary and postcolonial theorists, sociologists, anthropologists, and historians. … [My] hope is more than academic, by attending to the spatial dynamics at play in the formation of social existence, we would be able to imagine reconfigurations of living spaces that might promote more just societies. Such living spaces may open up the possibilities of different ways of life that announce invitations for joining. (293-294).
Similarly, Amy Sherman points us in the a similar direction in her recent book Kingdom Calling, as she envisions churches that orchestrate the skills of their members in ways that foster the common good of their places.
To be done well, this work that both Jennings and Sherman envision, of engaging, reimagining and reconfiguring the spaces in which our churches exist, requires substantial reading both in particular disciplines and across disciplines, as we tiptoe — slowly and mindfully — into the sort of orchestrating work that Sherman describes…
For these reasons, I am hopeful that churches can and should become this sort of "fertile nurseries of readers-in-the-making." We here at Englewood Christian Church having been moving in this direction over the last decade (a story that I tell in my ebook The Virtue of Dialogue) And, nurturing the intertwined disciplines of reading and conversation in our local congregations, is the raison d'être for The Englewood Review of Books. I imagine that I probably will probably flesh out an argument for this sort of missional reading in a book at some point, but for now, I wanted to put these thoughts out on this blog for conversation…
IMAGE: Creative Commons License via Wikimedia Commons…