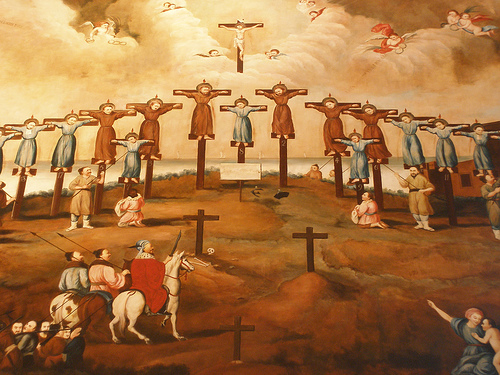 [Note: Today is the birthday of the great Japanese Catholic novelist Shusaku Endo. To mark the occasion, we're posting an essay John wrote for Besides the Bible: 100 Books that Have, Should, or Will Create Christian Culture (IVP, 2010) about Endo's powerful novel, Silence. The director Martin Scorsese has said he hopes to start production on a film adaptation of Silence in 2014.]
Francis Xavier disembarked at the southernmost tip of Japan in August 1549, and for two years the trailblazing Jesuit missionary preached in the streets, debated Buddhist monks, and conversed with local warlords. When Francis left Japan, he was hopeful about the modest inroads he had made bringing the gospel to the Japanese. And for a time Christianity did seem to flourish there. By 1582, two hundred churches served 150,000 Japanese believers. The number of Christians increased to 200,000 by 1591 and 300,000 by the early years of the next century.
But an ill wind was blowing. In 1597, the pilot of a galleon from the Philippines told Toyotomi Hideyoshi, a powerful territorial lord, that the Spanish Empire used missionaries as pawns to pave the way for a future invasion. In a drunken rage, Hideyoshi ordered the crucifixion of twenty-six Christians. In 1614, Hideyoshi's successor turned against Portuguese missionaries on the recommendation of the English and Dutch, Portugal's rivals for the riches of the East. Declaring that Christianity "must be crushed," native and foreign believers were expelled or slaughtered. Diabolical new forms of torture were developed to compel Christians to apostatize, including one method, fumie, requiring the suspect to trample on a holy image of Jesus or Mary. Refusing marked them as a Christian, and they could be burned alive, thrown into the sea, or tied to a stake on the beach where they were beaten to death by the changing ocean tides. Japan's "Christian century," as it is now called, came to a close in 1638 when 37,000 men, women, and children were killed by government forces in a failed rebellion with religious undertones. Japan closed itself off to the world, and Japanese Christianity was forced underground for more than two hundred years.
It is in this dark period that Shusaku Endo's deeply affecting Silence is set. The character at the center of the novel is Father Sebastian Rodrigues, a Portuguese priest who learns that one of his former seminary professors, now a well-known missionary, has been captured in Japan, tortured, and has renounced Christ. Finding it impossible to believe that his mentor and teacher chose apostasy over "glorious martyrdom," Rodrigues travels to Goa in India. There he meets a Japanese fisherman named Kichijiro who agrees to sneak Rodrigues and another priest onto shore near Nagasaki, where Ferreira was last seen.
Kichijiro is not to be trusted. He is a broken shell of a man, a Christian who tramples on the fumieat every opportunity to confirm his own weakness and wretchedness. As promised, he connects the Portuguese priests with clandestine Christians in a fishing village. Rodrigues and his companion hide in a charcoal hut where they hear confessions and perform baptisms. When local officials send armed samurai to intimidate the village, the priests are forced to separate and flee. Kichijiro finally betrays Rodrigues for three hundred pieces of silver, and this, amazingly, is where the heart of the story begins. Rodrigues is confronted with an impossible moral choice: to formally renounce his faith or be responsible for the death of several native Christians. Father Rodrigues entered Japan proclaiming the Jesus of Easter; in his hardship and torture, he will discover the Jesus of Good Friday.
Shusaku Endo was Japan's best-loved writer when he died in 1996. Though Christians comprised less than one percent of the Japanese population, Endo, a Catholic, was a fixture on the bestseller lists. Philip Yancey, who helped introduce Endo to many American Christians in his books The Jesus I Never Knew and Soul Survivor, summed up the potency of Endo's writing: "The most poignant legacy of Jesus was his unquenchable love, even for—especially for—people who betrayed him. One by one, Jesus's disciples deserted him; still he loved them. His nation had him executed; while stretched out naked in the posture of ultimate disgrace, Jesus roused himself for the cry, 'Father, forgive them, for they know not what they do.' This is the Jesus who speaks from the fumie, whose love extends to apostasy and beyond."