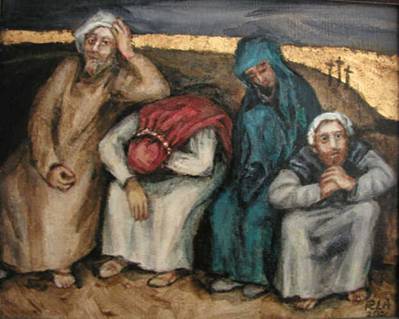 [Author's Note: A couple years ago I was asked to contribute to an article for Relevant Magazine about "five things we wish our pastors knew." Other contributors included Anne Marie Miller, Enuma Okoro, Matthew Paul Turner, and Jason Boyett. I wrote my piece as a kind of open letter to our church's new pastor. I'm reposting it here because it was written during, and inspired by, Holy Week.]
Good Friday, Holy Saturday and Easter Sunday represent the hinge of human history. We celebrate Good Friday and Easter Sunday because they make everything else possible. But I think it's a mistake to miss Holy Saturday altogether. Since sentences are my stock-in-trade, I sometimes think of Good Friday as an exclamation point (full-stop), Easter Sunday as a colon (momentum) and Holy Saturday as the important ellipsis between them. Good Friday and Easter Sunday are dramatic answers; Holy Saturday is about as-yet-unanswered questions. This is why I relate so much to Holy Saturday. It's also the reason I'm writing to you: because I think you should know I'm living with more questions than answers.
I bring this up because I don't want you to assume—and I doubt you do—that everyone in the congregation is in the same theological place. I was raised in a conservative evangelical church, converted to Catholicism in my late 20s, lapsed, helped start a couple house churches in Portland and somehow ended up (happily) at our Evangelical Quaker church in rural Oregon. I read books by acceptable theologians, read exactly four Christian magazines and listen to one or two Christian podcasts. But I read the unacceptable theologians, too. My faith has been challenged by art and inspired by science. I have found wisdom studying Judaism, Buddhism and Confucianism. And I can be just as swayed by pop theology compressed into 140 very powerful characters.
So I'm bringing to the community a collection of beliefs as comprehensive and imperfect as any seminary education. I'm packing a lot of questions, too. One Sunday, I remember hearing about the book
unChristian
, which the pastor had just read on vacation. Early in the book, David Kinnaman, one of the authors, says many young believers bring to Christianity the same challenges, doubts and questions that outsiders do. I count myself among this number. How has evangelicalism become so entangled with conservative politics? Why do Christians seem so anti-intellectual? Why do Christians seem so anti-homosexual?
Our community has gathered in a particular time and setting, and for the most part we share a Christian vernacular. It occurs to me, though, that sometimes the things we think we have in common can obscure rather than illuminate the truth. I've also noticed that two people can use the same language—describing Scripture as the "Word of God," for example—and talk past each other, or talk at cross-purposes, or neglect to deeply consider where the phrase "Word of God" comes from and what are its implications.
I see this as an opportunity. We have the chance to unpack and repack our luggage like experienced travelers, shedding assumptions that aren't worth their weight, reexamining old artifacts and seeing them fresh in light of the intervening miles. Questions like, "Why do I believe such-and-such?" and, "Why do other people believe such-and-such?" and, "What does such-and-such even mean?" can produce tension. But tension—when handled intentionally, patiently and gently—is sometimes where the energy is. This can come from the pulpit, but it should probably also happen conversationally at the congregational level. None of us knows precisely what the next leg of the journey looks like, but I am bound by membership to you and our church, and I am committed to walking it with you.