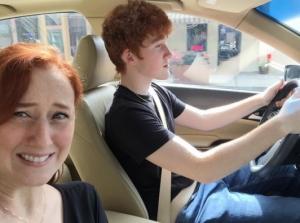 By Guest Blogger Rebekah Millet
My teenager recently started driving. Yes, that's really us in this picture. Feel free to send chocolate and a stress ball my way. Aside from not comprehending that there actually is no invisible brake pedal on the passenger side of the vehicle, I came to realize that my teen is a really cool person. The time we have together alone in the car has given us the gift of uninterrupted conversations (other than me telling him to slow down). No cell phones or social media, just us driving and talking.
One thing I'll always be grateful that I did with my kids since they were little was asking them questions that would elicit more than a one-word answer.
What's the best/worst thing that happened at school today?
Why is Mr. Miller your favorite teacher?
What don't you like about Mrs. Hannity's class?
What don't you like about the standardize tests you have to take?
What would you change at school if you could?
I'm not an expert, but I think kids want to know that their opinions matter, that their views are worth considering. The kids' views are certainly worth discussing. When we do that, we bolster their self-esteem and they open their minds to view things in a different way than what their friends or the world thinks. It's also a great way to reiterate my views on things and why I feel the way I do about certain topics.
But the same question-and-answer rule applies to me. I don't just rely to a question they've asked me with a simple yes or no. I give an explanation. If I can base my response with an example, like through a miracle that's happened in my life or with scripture, then that's all the better.
My youngest son wants to talk about Roblox. All the time. "Did you know in Roblox…" starts pretty much each sentence that comes from his mouth. Do I want to hear about the latest change to Jail Break (Don't worry, it's a Roblox game.)? No. But I do want my kid to always know that he can talk to me about anything and I'll listen. I find that he gets the chattiest at night when trying to prolong his bedtime. If I didn't stop him, he'd never go to sleep. Which means I'd never go to sleep. Not a good thing. So I cut him off after a while, but then I'll bring up whatever he was talking about the next morning on the drive to school.
That's also another piece of precious time that helps me connect with my kids. We say a quick prayer on the drive to school. We thank God for a new day and pray that everyone in our family has an awesome time at school or work. We'll ask for healing for those who are sick or wisdom for the tests the kids are taking that day. Last year on the way to school, my youngest asked me, "How do you drive while praying with your eyes closed?" I laughed for a long time at that. All of those years, he thought Jesus was driving while I prayed. Back then, we hadn't heard of the song "Jesus, Take the Wheel." It seems very appropriate now.
With all of that said, my simple advice is this: Use the time you spend driving in the car with your kids as a conversational moment. You may be surprised by what you learn from them.
About Rebekah Millet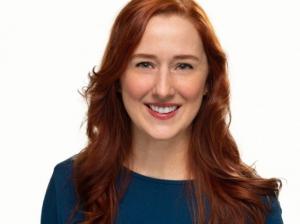 Rebekah Millet is an award-winning author of contemporary Christian romance novels. A New Orleans native, she loves infusing her colorful culture into her stories. You can find her on all social media platforms, where she frequently interacts with followers and fangirls over her own favorite authors. To learn more about Rebekah and the fun things she's up to (including a monthly book giveaway), visit her online at www.rebekahmillet.com.