I saw this photograph today from Parsons School of Design in a New York Times article. It contains the backpacks left behind by migrants coming across our border.
Of course, it is a powerful image of loss and naivete. Of dreams shattered. Of panic. Of giving up–both things and hope.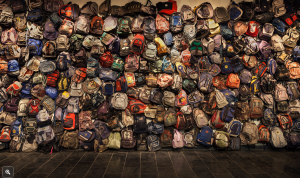 That is where the photo took me. But it also took me to the days I watched my kids put on their jackets and climb into their daypacks to head off to school. "Have you got your assignment?" Check. "Your lunch?" Check. "Your pens and pencils?" Check. And still they forgot what they needed, especially Jeremy, whose mind was elsewhere–maybe on a Lego castle he was building or a baseball game he'd play later that afternoon.
I remember watching from the deck as they trundled down the cul-de-sac, a fairly steep Seattle hill, backpack strapped to their small bodies. They would plunk their feet down, side to side, and I wondered if they would tip over backwards, with those full packs on their small frames. One day, I'd walk to pick them up and find them on their backs, like a turtle, wagging their feet in a failed effort to right themselves.
Those day packs symbolized so much. Fresh, new ones full of hopes and dreams for a new school year. At year's end, stuffed into tattered ones, hopes and dreams for a summer away from assignments and papers and pens. Sometimes hopes and dreams just for a good day, a day free of bullying, a day rich with friends.
Like my kids' packs, the packs on the wall were once full of what kids–and their parents–needed. Not for a day. Not assignments and a peanut butter sandwich and ball point pens. But for a lifetime. A lifetime in one pack. Underwear and socks and maybe a photo from home.
And now they hang in an exhibit, the detritus of dreams.
Hang my accomplishments on the wall: degrees, plaques, photos with mentors. They don't amount to anything. Not compared to the courage stuffed in each pack hanging on that exhibit wall.
What did the mom say the night before they left? "Underwear?" Check. "Socks?" Check. "Photo of your friends?" Check.
"Courage?" Check. "Hope?" Check. "Dreams?" Check.
"Valor?" Check. "Esperanza?" Check. "Sueños?" Check.
________________________________________
Photo from the New York Times.