When our son Jeremy was just a kid,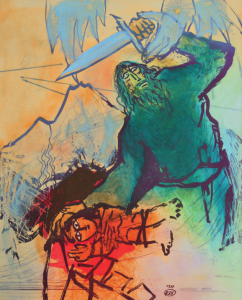 he often set himself up in the living room and built Lego gas stations, space ships, and castles. Our living room, where he held sway, godlike over his creation, had six floor-to-ceiling windows, which he faced. This meant Jeremy had his back to me, as he sat, searching, digging, hunting for just the right part–and I stood in the doorway.
I watched for as long as I could, until he sensed me, turned around, and invited me to join him. As I watched Jeremy from behind, I noticed especially his ears—how the sun shone through them. He would turn to the left, and the right ear shone. He would turn to the right, and his left ear luminesced. Usually, he looked straight ahead so that both ears filtered the bright light that pierced our windows.
Jeremy's small ears were, I reflected, fragile. They seemed paper-thin, sheath-like, sheer. Not flimsy. Not delicate. Fragile.
At least that's what I sensed as I watched my small son from behind. Here was a boy, inhabiting a Lego fantasy soon to crumble in the face of schoolyards and little league competition and a bevy of too-talented and well-behaved girls.
There is so much to be said about the story of Abraham and Isaac–the core of this week's Summer Together podcast. But the word that comes to mind is fragile. Not flimsy—they are resolute, both of them. Not delicate—there is nothing delicate about carrying wood up a mountain.
Why fragile? In part because everything is about to break apart, as a father lifts the knife to his son.
We will always wonder about Abraham. We'll never see him in the same way again, never see Abraham as a benign traveler fortunate enough to survive the long trek from Haran.
We will always wonder about Isaac. Why would he mount the altar with so many questions left floating in the air?
We will always wonder about God, how God could demand this of a parent.
The whole fragile scenario will shatter. Everything to this point—the lies about Sarah as his sister, the divine promises, the circumcision—pales in comparison with the glint of the knife, which pierces the fledgling faith we've come to cherish in twenty-one chapters of ancient stories.
Fragile, too, because we see the way I saw my young son: from behind. We stand at the foot of the mountain with the servant-boys and watch as they rise. "So the two of them walked on together."
Twice the story says this.
Twice they leave us, the two of them, together.
Twice we have to let them go.
Watching them go, together, suggests, to me at least, all of the fragility I can stand.
Knowing that we give them up to a fate that will change both of them, together. Can this fragile father-son relationship ever again be mended?
Knowing that we give them up to a God who demands death even if, at the last moment, God comes to the rescue. Can our fragile faith live with this sort of God?
Knowing that I must give my son up to a world that will crush his small bliss, tamp his dreams, steal his childhood. Can my fragile heart bear to stand and watch the slow burn of youth?
I read this story from behind, the way I watched my son from behind. And I ache with a certain sadness as I watch the two of them walk on, together.
___________________________
Photo: Abraham's Sacrifice by Adi Holzer (hand colored etching, 1997)