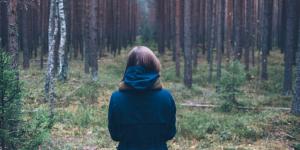 There seems to be a universal pattern to life, including the spiritual path.
Action →      Reaction →      Learning
You can find this in biblical stories about Jesus' healings. He heals a person, religious authorities have a fit over when he does it (Sabbath), and then Jesus has the opportunity to teach about the law of love being superior to rigid expectations.
Hebrew scripture scholar Walter Brueggemann found such cycles abounding in Hebrew scripture, especially in the Psalms. He calls the pattern[1]:
Orientation →      Disorientation →        Reorientation
For Brueggemann, the psalms of orientation were ones describing a status quo life; the ones of disorientation described being dislocated, lamenting the suffering of life; and the psalms of reorientation are writings of surprise, gratitude and joy concerning what God has done or transformed in life.
From my own experience and from sitting with many people in spiritual direction, I can confirm what Ignatius of Loyola wrote about in his Spiritual Exercises (though using much different language): We are most vulnerable to doubt and temptation right after a spiritually meaningful experience. That's when our reaction can get us into trouble if we aren't careful.
Spiritual "Push" (peak) →     Counterpush (valley) →     Understanding
Watch out for the temptation to doubt or to be carried away by "too much of a good thing" directly after you experience a spiritual high. If we don't overreact during the counterpush; if we keep praying and accept the counterpush as part of life, we can learn how the Spirit works in us and deepen in our relationship with God. It sometimes helps to keep a journal of spiritual experiences to see how this works for us.
For some of us, this pattern appears as seasons of our life. We may have many years where we see, hear and feel God's presence everywhere we look. Then, all of a sudden, "radio silence." Our reaction tends to be, "Really? What's wrong? How did I fall into this valley?" We risk becoming cynical, overly critical, even losing our faith. The diary left behind by Mother Teresa of Calcutta indicates she spent decades in this place of dislocation, disorientation, lamentation.
Ignatius encourages us not to lose faith. If we've made a decision during the good times with God, and if we know deep in our heart that the decision is solid, Ignatius urges us to stay the course. But if the decision "weakens, disquiets or disturbs the soul greatly," he writes that we may have been too optimistic (or, in his terminology, deceived by evil).
This difficult part of the spiritual life requires patience. It's all part of a discernment process of paying attention to our lives, our emotions and our reactions to life. If you feel you need help navigating these cycles or seasons, you might find spiritual direction helpful.
---
Want to try spiritual direction? I have openings in my schedule for new directees—regardless of where you live. I can work by phone, Skype or if you live in the Phoenix metro area we can meet in person. Contact me at teresa@teresablythe.net  or visit www.teresablythe.net.  Also visit my website for the Phoenix Center for Spiritual Direction.
It's easy to subscribe to this blog and get updates in your email inbox. Check out the right side of the webpage and fill out the form under GET PATHEOS NEWSLETTERS. New posts come to your inbox when published.
Thank you for following this blog!
[1] "Psalms and the Life of Faith: A Suggested Typology of Function," by Walter Brueggemann JSOT 17 (1980) P. 6-9.
Free photo courtesy of Canva.com